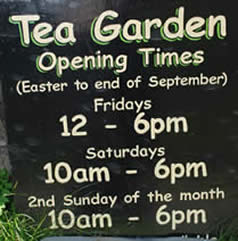 We are 5 miles W of Penrith & M6 J40 & 5 miles N of Ullswater Lake just above the A66 - directly on the C2C cycle route just beyond the villlage green.
for non cyclists see left ..............and Just for Cyclists.. read on
...for cyclists arriving on bikes there will always be a hot drink here for you when you stop (between Easter and the end of October) in The Cyclists' Barn. This is exclusively open for cyclists on their bikes and their support from 9.30am to 6pm every day. Inside, you will find hot and cold drinks and flapjack plus plenty of current bike reading material. You should find the barn useful, with towels, blankets, oil, bike pump, maps, free juice for your bottles etc and you can sit inside or out in the back garden. We have spare inner tubes, puncture repair kits and Sudocream for sale and, if we're about, we'll serve you with whatever else we have. We are an official Sustrans C2C stamping station and the stamp is always out and available in the Barn, with juice, oil and other essentials.
We are fully open to all, including walkers and non-cyclists, on Fridays, Saturdays and the second Sunday of the month between Easter Good Friday and the end of September. The hours are designed to meet the needs of most C2C cyclists, ie 12 noon to 6pm on Fridays and 10am to 6pm on Saturdays plus the monthly Sunday. If you arrive on a bike at other times of the week please see below - Cyclists welcome October to Easter arrangements The Cyclists' Barn should remain open during October and until the frosts start, it then closes for the winter and reopen wth the Cafe at Easter. We live here and our Quirky Workshops continue most of the year Limited parking We only have parking for Cycle Support Vehicles and some Workshop attendees at the Cafe and ask all others to walk the 300yds from the village car park. There is a pub, shop and Post Office in the village plus, in season, an open air swimming pool.
Traditional treats
In season, we serve everything home-made - light lunches, soups, cream teas, cakes, cordials, jams, milkshakes and large mugs of tea, coffee (all types), lattes, cafetieres and hot chocolate. We're a cafe, but 'sans gras' (not greasy spoon) ... except for our bacon sandwiches, cheese for beans on toast and a healthy dollop of freshly whipped full fat double cream for your home-made, Aga-baked scones! Greystoke is close to Ullswater and the Northern Fells of the beautiful Lake District and just four miles west of Penrith. Greystoke lies at the crossroads of the Lands End to John O Groats west coast cycle route and the C2C cross country route..