Print This Page
Textile Courses at Greystoke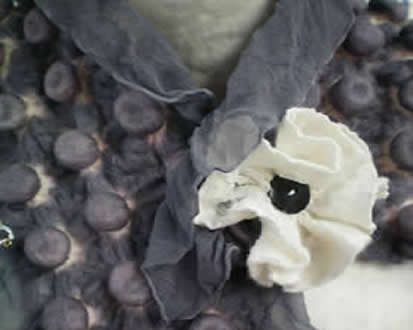 Hand Loom Weaving Nuno Felt Scarves Felt Slippers Traditional Large Hookie Rag Rug
Shibori Scarves Felt Flowers& Corsages Wonderful Winter Scarf Weaving
Rag Rug Hookie & Proddie Cushions Felt Art Rag Rug Wall Hangings
Beginners ~ Intermediate
In planning your 2014 textile year, remember the fabulous
WOOLFEST on Fri 27th and Sat 28th June
at Cockermouth Sheep Auction Mart
this event just gets better and better - dont' miss it
Hence, the cluster of quirky Textile workshops in late June

Dressmaking full day Courses with Maggi Toner-Edgar
Wardrobe Renovation Tues 29th April

or Basic Pattern Cutting Wed 25th June

Two invaluable Dressmaking Day courses with Dr Maggi Toner-Edgar

Maggi is a fashion consultant and illustrator based in Cockermouth, previously she was in charge of Creative Design for Fashion at the University of Cumbria and specialised in Haute Couture which included Pattern Cutting Design as well as Millinery and Textiles. Consequently she is more than qualified to answer your fashion and dressmaking questions.

We're really pleased she has agreed to take these two courses at Greystoke

Maggie is particularly interested in helping people understand their body shape and learn to

modify dress making patterns accordingly. She will encourage you to work with your own figure type to create stylish looks and perhaps act as a

catalyst for change and allow you to re-frame the way you view yourself

and your body, both in and out of your clothes.

Which are you ?

Wardrobe Renovation Tue 29th April 2014 Cost £74

Upcycle your wardrobe make it more stylish, comfortable or a better fit to suit your shape. Learn to remake, mend and restyle.

The course will involve a little bit of pattern cutting where necessary for customisation and some machine and/or hand stitching, learning a few key skills -

such as perfect hemming, and finding the correct cut to suit your figure.

Basic Pattern Cutting Wed 25th June Course Cost £74

Make a simple tunic shape to suit your figure type. This is a one day course for a small number of people where you get step by step instructions to create a very basic simple tunic, from which you can make other tops and dresses at a later stage in any fabric, no button holes, no zips - just simple creative fun, with lots of suggestions and advice on further adaptions at a later stage.
Return to Table (with prices, dates, availability )
Wardrobe alterations & dressmaking skills afternoons with Sarah McCaig
4 Thursday afternoons in

early Spring 2014

Thu 27 Feb, Thu 6th Mar,

Thu 13 March, Thu 20 March

Do you have any really special, good quality yet rarely worn

garments or outfits that you can't bear to part with but can no longer wear?

Perhaps your shape has changed slightly and you know it may be quite simple

but you need help and guidance - someone to show you where to start .

On this course of 4 afternoons we will look at everyone's garment(s) and share ideas about what could be done to improve the fit / cut / styling etc and future wearability! Examine the range of sewing techniques, fabrics and embellishments to stimulate ideas.




Sketch new ideas and perhaps even create a storyboard for a re-worked garment .

In preparation for the next session you can gather materials and equipment required -

sewing machines / mirrors / mannequins? etc.

Over the following weeks you will consolidate ideas and start to work on the garment using a range of techniques, continuing to customise to your exact fit.

You may add embellishments of your own or buy something speical from Sarah, check the final fit and add special touches.

There will be an opportunity at the end to present your pieces to the group and consider your next project.

About Sarah McCaig

I have been sewing for as long as I can remember!

My early interest in fabrics led to the completion of a degree in Art & Design, specialising in Textiles and Fashion. I continued working in this field for several years, designing and making bridal, evening and special occasion wear on the Fylde coast in Lancashire. Following a change in career and two children later, I moved with my family to a beautiful part of rural Cumbria. I now live and work from my home in Newton Reigny, near Penrith.

My current work has evolved from a long-standing love of stitched and woven textiles and the experience of dress design and construction. I particularly enjoy designing with pure British wools, often working with locally sourced handwoven fabrics and handcrafted embellishments, and applying a range of techniques to create an intriguing, unique and enhanced piece of work.

My love of Scottish tartan with its glamorous, colourful checked pattern also influences my work and plays an important part in my designs. I also enjoy working with tweed, for its range of colour and wonderful texture.

My product range includes creatively designed cushions, doorstops, draught excluders and an assortment of scented products, together with handwoven and crocheted scarves, crochet brooches and corsages. For 2013, the range is enhanced by the addition of handcrafted candles, a venture with my Father, to create products to compliment and co-ordinate with the textile pieces.
Block Print your own Lampshade and Cushion Top with Georgia Wilkinson
A Design, Print and Make day

Wed 16th April 2014

Wed 13 August

9.30 - 4.30pm £74

Over first coffees Georgia will tell you a little about her self and explain what is possible over the day, with hints and tips for your design in mind suitable for a repeat pattern. Once your design is finalised pn paper you will learn to make block prints using a variety of mixed media tools and you will practise on paper

before turning and printing up the cotton panama fabric

she supplies.

The material for the lampshade will be then cured and hand rolled and

carefully finished into a lampshade.

A further pieces of fabric can be printed for a matching cushion cover front

to take home and make a cushion

You can choose to make either a small table lamp shade or a larger pendant ceiling shade - Geogia wil advise on print types according to shade sizes.

There will be an additional materials

charge of

between £10 and £15 payable

to Georgia on the day

I trained in Surface Pattern Design and later worked in the studio of a textile printing factory in London, working on designs for companies such as Bennison, Vanessa Arbuthnott and Lewis & Wood.

After three years I was beginning to miss the green spaces of rural North Yorkshire, where I had grown up. Returning to my roots I set up jorja wilkinson design in 2009, running the business from a 1930s cricket pavilion studio.

- See more at: http://www.jorjawilkinsondesign.co.uk/about#sthash.ORVV7Uq0.dpuf

I trained in Surface Pattern Design and later worked in the studio of a textile printing factory in London, working on designs for companies such as Bennison, Vanessa Arbuthnott and Lewis & Wood.

After three years I was beginning to miss the green spaces of rural North Yorkshire, where I had grown up. Returning to my roots I set up jorja wilkinson design in 2009, running the business from a 1930s cricket pavilion studio.

- See more at: http://www.jorjawilkinsondesign.co.uk/about#sthash.ORVV7Uq0.dpuf

I trained in Surface Pattern Design and later worked in the studio of a textile printing factory in London, working on designs for companies such as Bennison, Vanessa Arbuthnott and Lewis & Wood.

After three years I was beginning to miss the green spaces of rural North Yorkshire, where I had grown up. Returning to my roots I set up jorja wilkinson design in 2009, running the business from a 1930s cricket pavilion studio.

- See more at: http://www.jorjawilkinsondesign.co.uk/about#sthash.ORVV7Uq0.dpuf

Georgia Wilkinson is a trained

Surface Pattern Designer who worked

worked in the studio of a textile printers

working on designs for such companies as

Vanessa Arbuthnott and Lewis & Wood – popular quintessentially English fabric designers.

Drawing on such influences, she now produces her own

inspiring jorja wilkinson designs for modern printed

fabrics for the furnishing and fashion industry.

Her innovative designs are influenced by the bold,

clean lines of 1960s wallpapers and ceramics,

but brought up to date with a crisp palette and striking

repeat patterns adding energy to any interior space.
Rag Rug Making Days with Heather Ritchie
Wallace dreams of these

woolly Rag Rug

days all year.

Heather uses both Hookie and Proddie methods in her rugs Include lovely flowers in your rug design - especially uitable for wall hangings or cushion covers Heather brings along lovely ideas and fabric.

Sat 28th June or

Sun 29th June 2014

£76 inc lunch

Heather's rugs are fondly termed Paintings in Fabric. Iincredibly detailed, each depicts ascene from various corners of her life - from her

Grandfather's allotment to her summer holidays from childhood

When she moved into a house in North Yorkshire with cold flagstone floors, a neighbour showed her how to make a rug using hessian sacking and old lisle stockings .Immediately she was inspired by the idea and over the last 25 years has developed and refined her Rag Rug making skills to the highest standard.

One of Britain's most experienced rug makers and teachers of rug-making. She travels widely running workshops and is internationally recognised for her skills: She often tutors in the States and Africa where she is a founder of Rug aid

What to bring - please read

Some large sharp scissors and a couple of bags of material of the colour scheme you may want - though often the materials are pooled. Woollens wear best if hoping to make a floor rug (see below - Emma Tennant what to bring)

Round frames are available for use and purchase at the end from Heather or we have a number of square frames to borrow and possibly buy at the end of the day- these will be joiner made and will cost around £20 we think They will be about 2 ft by 3ft ish

Hookies and Proddiies - again - are available to borrow - and buy at the end if you want -hookies are £17
Rag Rug Making Days with Emma Tennant
Photos pf previous workshop may

provide some ideas.

Emma's 2013 workshops

Tue 22nd Oct or Thu 14th Nov

both full

Tues 14 Oct 2014

Tue 25 Nov 2014

Emma provides joiner made traditional frames some

3ft x 4ft which are ideal for large floor rugs- the type for which she is so well known - though they do reduce to smaller working size if needed She makes rugs using the Hookie method and these are also provided

You can buy either frame or hookie at the end

(£30 & £17)

Emma will show you how to plan and create these

lovely distinctive rugs

Emma Tennant lives in Roxburghshire, Scotland .She is widely held as an authority on the history of Rag Rug making. Emma spends her winters making and designing rag rugs which are made by a group of neighbours and marketed under the

name Hermitage Rugs.

She spends the summer painting flowers in her studio at the foot of the Cheviots Hills and is a member of the Council of the National Trust.

She prefers using a fairly close weave hessian that gives a denser ,longer wearing rug. You will follow the original methods of hookie rugging done by busy wives and mothers on dark winter evenings.

Once booked with Emma you could start looking out for materials to bring with you for our rug. For a floor rug woollens works best as they clean easiest, wear well and don't attract the dirt as much – ie tweeds, coats, jumpers, trousers, jackets, anything from charity shops as long as clean and dry – and if you know of any old fashioned tailors, they always have trimmings from wool garments they may be glad to give away (Continued see below left)

Notice how Emma manages to produce a shaded effect in her designs - this brings them to life.

Photos of previous workshops may give you some ideas

Author of

'Rag Rugs of England

and America'

WHAT TO BRING?

We will provide the frame and hookie tool to borrow -

or buy at the end if you wish.

The hessian is included in the £30 charge if you

buy a frame- if howeer you just take the

hessian home there may be a small

charge payable to Emma

Some large SHARP dressmaking scissors

and some bags of material as detailed above

Do give your design some thought

and simpe often has more impact.

Synthetic materials and cottons are also fine – though synthetics tend to attract dirt and are not so easily cleaned.

However if you're making a cushion or a wall hanging, then this perhpas won't matter.

Emma will bring her rugs for you to see and her own collection of materals to share
'

Be Fabulous with Felt

'

. . .

with Linda Anne Chapman -
Enjoy a Nuno Felt Scarf making Day

Perfect for Hen Parties

for groups of up to around

15 people here at the Cycle Cafe

making corsages and

nuno scarves and foibles - please enquire

Linda Chapman is one of the team

behind the hugely popular

WOOLFEST

Thu 20th Nov 2014

She is also a member of the co-operative

'The Wool Clip' in Caldbeck

Linda came to Cumbria some 5 years

ago and created her very own felt making studio overlooking Blencathra in the Lake District.

A talented all round artist, she has a fine art degree, with an original background in painting.

www.moorendfelts.co.uk.

Linda's work is already sold in galleries

throughout Cumbria and online from her web site

Material Charges

Approximate material charges up to £10 will be

payable to Linda on the day depending on what is made.
Spinning, Natural Dyeing, Beginners' Crochet & Knitting Days with Marion Woolcott
About Marion Woolcott ... an experienced spinner, weaver, dyer, knitter and crocheter as well as being a tutor and designer. She has taught many individuals and groups different aspects of spinning, specialising in producing exciting fancy yarns. Marion is also a founder member of The Wool Clip co-operative, where she sells her fine silk and merino woven scarves, yarns and clothing. Marion designs and sells patterns and kits inspired by her hand dyed yarns.
LEARN to CROCHET
Beginners Crochet with Marion Woolcott -
' Wrist warmers in a Day '

Sun 10th August 2014

£68 inc lunch

Spend a day with Marion

learning how to crochet- everything is provided

with Marion Woolcott

or below take 4 x Crochet mornings on Thursdays

in March
Hooked on Crochet

4 Thursday mornings in Spring 2014

Thu 27th Feb, Thu 6 March,

Thu 13 March Thu 20th March

9.30 - 12

£98 inc refreshments

This series of afternoon workshops are for both

beginners and improvers and will cover
the basic stitches, how to follow a pattern, how to make granny squares and how to create fancy edgings.

Marion is a mine of knowledge and other subjects can be covered as necessary where possible
How to Book

Spinning Yarns, Spinning Wheels & Drop Spindles

The Art of Spinning

In March 2014 Marion is offering a series of 4 Monday

morning classes at Greystoke

Mon 3rd March, Mon 10th Mon 17th Mon 24th 9.30 - 12 noon

£98 including refreshments

This 10 hour course for beginners and improvers will cover
fibre preparation, spinning on a drop spindle progressing to spinning wheels

and how to ply art yarns and other fibres.


2014 full DAY courses

Thu 24 July and Mon 24th November 2014 £74

Half days sessions x 4 in March Monday mornings see above £98

We shall have a lovely woolly day - first looking at different types of sheep and

the various merits of their fleeces with many samples on hand to explore.

We will then go through sorting a fleece and preparing it using hand carders.

This wool will then be spun using drop spindles to start with progressing to

a spinning wheel. Everyone will go home with a hank of handspun yarn.

Please bring an apron All material costs are included in this class
Dyeing with

Natural Dyes

Marion Woolcott

£68 inc lovely lunch

The soft hues right were made entirely using

natural plant dyes

2014 dates will be

posted shortly

We will explore the world of dyeing wool with Natural dyes; covering mordanting the yarn ( the process which

ensures the dye adheres to the wool) , and seeing the different colours produced from one dye bucket.

We will be using Weld, Logwood, Madder and some local plants. If the weather is fine we shall also be able to

have an indigo dyebath.

Everyone will go home with sample cards of yarn from each dyebath.

Total cost of wools /dyes £3 to Marion on the day please . Don't wear your best clothes and bring rubber gloves!
FELT Workshops with Debra Esterhuizen
2013
Felt Slippers 2014

Tue 1st April

Wed 2nd July

Fri 14 Nov 2014

Starting from scratch using various colours from

soft wool fibres -

learn how to lay them together and mix colours,

then to bond them by felting and

so create your own 'material' whilst

at the same time you have created a seamless

slipper forma that you can then mould and

transform into a real pair of slippers

Being 100% pure wool

these slippers

are very very warm

Click below for previous

June 2013 Slipper Day photos

http://on.fb.me/1fsPbzM
Felt Art

with

Debra Esterhuizen

2014 dates

Wed 2 April

Fri 27 June

Tue 1st July

Thu 13 Nov

Create your very own felt masterpiece

with Debra- who will bring all the materials necessary

for the day, comprising a fabulous choice of of vibrant colours in various fleeces and silks.

See pics of the last felt art day

http://on.fb.me/1ai0bsv

Convinced that the alchemy of

felt making is extremely therapeutic and somehow rekindles the child within us, she loves its familiarity of warm, tactile experience, the result is escape and calm followed by the joy of a new skill resulting in a beautiful piece of art/craft.

There will be a material charge

payable to the tutor directly on the day of £6

the last Felt Art day photos

http://on.fb.me/1ai0bsv

Debra is a self taught felt artist

living in the Eden Valley, Cumbria.

Her passion for art arose in her childhood

growing up in the Peak District.

Here a love for the wild and the beautiful was

instilled and has

remained integral to her being.

It was while she was travelling in Nepal that Debra

discovered the ancient art of felt making.

Soaking up the rich jewels of colour and

form in all the beauty she observed and,

overjoyed by the delights of these new cultures.

On her return to the UK Debra began to create beautiful

felt pieces, first objects but latterly

"paintings " as she calls them.

Her artwork radiates energy using rich vibrant

colours and exudes excitement witnessed in her travels. Her colours hold a dissonance which fills the image with

energy and light.

She attempts to portray the natural beauty of light shows observed in person and hopes to convey the experience through her chosen medium, perhaps reminding the observer of the beauty once visited.
Wonderful Weaving

on a

Hand Loom - design and weave your own Scarf' with Jan Beadle
Bubble Up Scarves ~ Collapse Weaving

When the scarf is washed different warps and wefts shrink differentially to the cotton and so tightens and

causes the cotton to bubble up, creating this exciting effect.

Create your own handwoven scarf in a day, incorporating unusual yarns that magically collapse giving the weave an unusual rippled effect. Spend a day weaving on a four shaft table loom experimenting with this weaving technique producing your own individually woven piece.

Looms will be set up and ready to go. This course is perfect for beginners and for the more experienced wishing to develop their skills further.


2014 dates

Tue 11 March

Thu 16 October

Thu 27 November 2014

Your 4 shaft table looms will be set up ready to go -

there will be a huge range of beautifully textured

yarns to incorporate into your weaving -

perfect for Beginners

Weave a Scarf workshop

Jan graduated with a BA Hons in]

Carpet Design and Related Textiles

in the mid 80's - she recently left the University

of Cumbria where she was their Weaving Guru

with over 25 years experience

Material Charges

Approximate material charges will be around

£5 -£8 per scarf depending on what is used and

are payable directly to the tutor on the day.

Make your own Shibori Scarf

return to top
You are now viewing the 'Textiles Page' ...
for Availabilty & all dates times & prices
please return to complete programme table on the main Workshop page
Innovations in 'Green Dyeing' from the natural Dye Garden with Helen Melvin
Ideal for delicate fibres
About

Helen Melvin of

Fiery Felts

Helen Melvin is perhaps the UK authority in Natural green Eco Dyeing. She has spent years perfecting her techniques which has resulted in the publication of 4 specialist books on Eco Dyeing and her own Welsh Dye garden which has already appeared on a number of TV programmes.

Helen brings with her a lifelong expertise of the most up to date Eco friendly but vibrant dye technques - after appearing at Woolfest in late June 2013 she will visit Greystoke to take day long workshops and

share some of her secrets.

The dyeing aspects of these

workshops will take place under cover outside in the garden - please wear suitable protective clothes

Green Dyeing

without compromise

Helen's expertise combines the best

from the original mediaeval Dye gardens ** and along with steaming and

indigo vats she expertly brings them into the 21st Century with

innovative green techniques such as fresh solar bundling.

Excitingly the new resulting shades are not only deeper richer and more

vibrant colours - but the methods are ideal for delicate fabrics like

merino wools, silks and organzas. ensuring they remain soft, open and

useable and colour without matting or felting

**( the alchemists of industrial Britain introduced to the dyers armoury

strong toxic & polluting chemical colours and harsh processes

unsuitable for the most delicate of fibres )

Helen will bringwith her some silk, each

student will have 4 long lengths to make

4 scarves,

Using her unique dye techiques over the day

you will learn and leave with these four pieces

ideal for yourself or presents.

There will be an additional materials / dye

charge of approx £10 per person

Natural plant dye enthusiasts tend to favour

the natural more subtle shades and complexities

of the natural plant palette.

Madder ~ Woad ~ Indigo Elderflower ~ Buddleia ~ Coreopsis Bugle ~ Persicaria

are just some of the common garden dye plants used over the centuries for traditional colours.

However, using her own special techniques Helen has now created for the first time such elusive colours as turquoise - rarely heard of until a few years ago - it now becomes available to the natural Dyer