Giving Workshops as presents & buying Open Vouchers
1. Open Vouchers for any occasion from £15 to £200
Our Open Vouchers are great as a flexible present, giving someone a treat of an experience day without trying to
second guess their choices - often tricky if people have many and varied interests.
Let the lucky recipient enjoy browsing the website and choosing their own workshop.
They can look forward to it, love making and learning from it and leave with
something they've made as a reminder. Old interests can be rekindled and new ones discovered .
Often the one who has purchased the gift joins them on the day aswell, meaning a special day out is enjoyed together and
your creations will serve as a fond reminder, forever.
Buying an Open voucher online is easy and our Vouchers are available from £15 to £200 - they will be VALID for TWO YEARS . .
That's twice as long as most other vouchers for 'experiences'
Two years to enjoy that special day!
1. Choosing a Specific Workshop for someone
If you wish to give someone an actual course as a present on a specific date just email us to check
spaces and book a place etc using the table above .
Once paid for in full, we will then email YOU their confirmation to print off and put inside their card - it will be addressed
to them and give all course / accomm details and we hope a warmly worded letter to receive.
It will look something like this -click below- or send us your preferred opening paragraph,
dont forget from WHOM the present is from also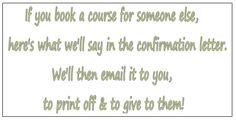 Very many students tell us they love receiving Quirky Days as gifts!
Perhaps because (when given by others) there is no sense of guilt
from self indulgence and being a gift, they then 'have to' actually book themselves a lovely day out .
They can look forward to their special day, enjoy their lovely lunch, being looked after & meeting new like minded people.
Nearly always they'll come home with a finished (master)piece to show off their latest experience and new found skill!
We can provide a gift voucher for specific occasions (50th birthday/anniversary / retirement etc) - just ask
NOT SURE?
If you wish to book someone an actual course as a present but are slightly unsure about
making the right choice, please mention this when you book and we will, where possible, offer an option for the
recipient to change to another course or date once they've received their present.
The flexibilty we will be able to offer is largely dependent on the time gap between birthday gift date and course date

You do NOT need a paypal account to pay through Paypal - Debit or Credit Visa etc can be used instead.
Open Voucher

purchase

& print

follow

1,2,3

Choose the amount

you want to spend

You do NOT need a paypal account to pay through Paypal - Debit or Visa cards also OK

If you need a denomination

not shown, make up the sum total and using the white box

tell us your requirements and we will email you a special voucher ie for £85 if preferred. This may take slightly longer

1,2,3

Use the white box to tell us about

the recipient if poss. Name/ phone number please, if available. This helps if they lose

their voucher) thank you .

If you're not sure who it's for that's fine too!

Pay the relevant amount

using below paypal Add to Cart boxes

there is a 'View Cart' at the end

1,2,3

YOU print off

your voucher choosing

Xmas or general

We'll email you a special Authorisation V Code showing you've paid . It might take up to 24 hours for this to arrive.

( If you're unable to wait for our VCode,

please use the DATE plus

first 8 digits of Paypal's long Transaction

code so we can still

locate purchase when redeemed-

thankyou)

Quirky Workshop Open Voucher

Quirky Workshop Open Voucher

Quirky Workshop Open Voucher

Quirky Workshop Open Voucher

Quirky Workshop Open Voucher

Quirky Workshop Open Voucher

Quirky Workshop Open Voucher

Quirky Workshop Open Voucher

Quirky Workshop Open Voucher

Quirky Workshop Open Voucher
Open vouchers will be valid for 2 years from Validation date and code
.
Some feedback from Voucher gift holders and givers
Just wanted to say a huge thank you for the fantastic day out yesterday for Jo and I at the Willow Angel workshop. We had an absolute ball and your hospitality was amazing. What you have going there is utterly inspiring and long may it continue! We both look forward to coming back again and again to do different things and I will certainly be bringing back others who I know would love it too.
And although it was quite a drive from Leeds, the scenery coming up yesterday morning was stunning and a real bonus. So many thanks again, take care of that knee and have a very happy Christmas and a PROSPEROUS New Year!
I have only had chance to briefly speak to my parents as I away working but my mum seemed over the moon with her day, especially by the mars bar scones, i am intrigued. Thank you ever so much for making my christmas present to them a wonderful experience. Hopefully in the summer we may be doing some cycling in the lakes so i will be sure to come and find you............ it's a pleasure to support places like yours that are doing something different and interesting. Most people I have told about it have been surprised such a day exists and most have been interested so i have directed them to your website

Kindest regards .... R. D
---
You are now on the
Quirky Workshops Main Page
see subsequent page on menu 'More Quirky Workshops' for
Bushcraft, heritage willow and wire garden sculptures etc
(make a cup of tea & keep scrolling . . . both are quite long pages)
---
Silver Clay Workshop - 'Inspired by Nature' . . . with Jo Dix
Jo runs her own Silver jewellery business called Silver Forge in the South Lakes . There's a lot of freedom is forming jewellery from Silver Clay and so there is less emphasis on the traditional jewellery making skills. Being made of silver particles the material is not cheap by any means and sometimes commands a higher price than mined silver.
Make a Stained Glass Panel ....with Jackie Hunt - Two day 'Design and Make' Stained Glass Panels
Glass is an ancient art of using colour and light to create atmosphere and to depict images and stories. Traditionally, stained glass windows tend to be associated with cathedrals, churches and country houses, but these days it is also used in homes for decoration and there are many ways to manipulate glass to provide colour, texture and pattern. The course involves working with coloured, clear and textured glass; learning how to handle and cut it safely and to 'lead up' a small (approx 200mm or 8" square) panel. All glass, tools and equipment will be provided for use on the course. No experience is needed. This is an informal workshop with a small number of participants and there will be demonstrations and practical help throughout.

This course is suitable for all abilites

Materials charge payable directly to the tutor of £20

will cover the cost of a panel 8" x 8"

If students choose to make larger panels there

will be an extra charge pro rata

Jackie Hunt is an extremely accomplished tutor of Stained Glass

with a wealth of experience behind her. She has created some beautiful commissions

across the country and we are delighted that she comes to Greystoke despite

having moved to Dorset in 2012.

Dates for 2015

Sat 11th Sun 12th July - ltd space

Sat 26th Sun 27th Sept

9.30-4.30pm each day

£150 inc lovely lunch each day etc

Materials extra

Health and safety issues

. . Lead and lead solder will be used these are toxic substances both to handle and to

breathe in the solder fumes.

Pregnant women are advised not to handle lead or breathe in fumes.

A health and safety briefing will be a part of the course and the

use of safety equipment which is provided ,

e.g. safety goggles while glass cutting, will be required

PLEASE DO NOT WEAR OPEN TOED SANDLES TO THIS CLASS

The panel you make could be for a place in your house or could be

built into a window or frame as a hanging panel.

Please bring any ideas you may have
---
Fused Glass Workshops with Marilyn Hale
Marilyn Hale has been making and teaching Fused Glass for many years from her own south Cumbrian studio and we were delighted when she came to take our Christmas decorations and jewellery course in November. The students asked if we could get her back again and we've managed to secure some more dates for 2014 :)
---
Make your own large Door Wreath for Christmas
Dates for 2015

Fri 4th Dec

Sat 5th Dec

£65 inc lunch and 1 oasis ring

This price includes a new

large oasis ring (16" costing (£10)

which can be renewed with fresh oasis year after year-

There may be time to make more than one wreath -

perhaps 2

(these make lovely presents for friends at Xmas time) - for the second wreath we will show you how to add new oasis to an old frame and this will mean you will know how to re use your oasis ring for following years.

There will be be an extra charge of £10 for those wishing to use a new second ring.

We will ask each person coming the day before-

or early that morning - to gather a large

(trolley bag size) full of mixed greenery to bring

along for the course.

we can then share out what we have and create

the most stunning large wreaths and

also great fun making them

Below is a list of examples that we may have

some supplies of - however not enough for all so we

suggest you bring your own to decorate and add the

final touches to the foliage if you wish

- remember you will be hoping these look fresh for

atleast 2 weeks

for all pictures of this day please see

http://on.fb.me/1bbg6ZL

Holly with Berries attached - Seedheads

Feathers - Baubles - Bows

Dried Fruit -ie oranges, lemons, limes

dried chilli peppers

fir cones - sprayed white silver or gold

(spray if you have )

Anything else you think may look good

We will show you how to wire up and attach any

decorations that you choose and we hope you will

never consider buying a made up

door wreath again.

BIKE MAINTENANCE courses with Steve Woods of Adventure Cycling MIAS
Hands On

Strip & Build Bike Day

£78 inc 2 course lunch

and all refreshments

Sat 28 March 2015

10 - 4pm full

we hope more dates will be available soon

please email us to join the waiting list

for future dates

http://www.greystokecyclecafe.co.uk/form.htm

Class Max 6

Your bikes should be thoroughly

cleaned before you arrive,

Each be provided with a bike work stand and set of tools and then will be shown how to remove all the components

piece by piece.

Covering Gears, Brakes, Chains,

Cable Replacement, Headsets,

Bottom Brackets,Wheels and Hubs. .

Finally , with the bike set up correctly we will have a short test ride. If your bike requires new parts this will be an additional cost . If you know of any particular problems or you would like to upgrade a certain component please feel free to bring the parts required along with you. Lovely 2 course lunch and refreshmetns included

The Strip & Build Course is designed for

those who are familiar with the parts of a bike and atleast know how to change an inner tube.

You will learn how easy it is to fix small problems or

up-grade a component, saving you both time

and money in the long run.

It might not rule out a trip to the bike shop but will certainly help reduce bills .

S

'Beginners Bike

Maintenance & Set Up'

£25 inc tea and scones

served half way through

Sat 28th March 2015 ltd space

5 - 7.30pm

Class Max 10

Juniors welcome with adults

but sadly no discount available

This short evening course includes some hands on work.It covers things you need to know about your bike & how to mend them in order to be self sufficient when you're out on a day bike ride on your own.

Starting with the basics Steve rapidly moves through most common problems with tyres, punctures as necessary , wheels, brakes, gears etc ..the list is quite comprehensive

Includes drink & cakes.

Click above for recent Bike workshop pictures...
---
Return to Table (with prices, dates, availability )
Dry Stone Walling Workshop - Steve Allen - professional Dry Stone Waller (& World Champion)
Steve points out to the group the parts he is most

impressed with- the choice of stone is everything!

Dry Stone Walling Days with Steve Allen

please email us to let us know you are waiting

Learn this age old technique of creating a solid stone wall without the use of any cement/ mortar- Steve will guide you through the setting out & various stages of wall construction -he is the existing & many times World Champion Dry Stone Waller& we are lucky to get him to commit to these workshops - he spends a lot of time in America working with Andy Goldsworthy - so will have a lot of knowledge to share.

This course is suitable for all abilites

FITNESS to PARTICIPATE

Dry Stone Walling is very physically demanding,

at times ground is unsafe, uneven rocky and precarious

Stones are heavy , unwieldy and need lifting to around 3 or 4 ft

Please bring

safety goggles & suitable gloves

and safety boots

Only those who are fit to participate should sign themselves up to this course- there will be a safety briefing at the beginning and you will be asked to sign a disclaimer before the day.

(Those with previous or existing back problems or who are pregnant of course should not consider this day
---
A Taster in the World of Dowsing and Water Divining - Eleanor Burke BSOD
Sun 9th Aug 2015

10am to 4pm

£68 inc a lovely lunch

Enjoy a memorable day discovering and practising the fascinating art of dowsing, a skill which has been used widely for thousands of years to locate hidden water courses and other unknown underground features.

Eleanor will show you first how to build your own rods and put together other dowsing tools that may be used. You will then be guided through the various aspects of dowsing and exploring the gardens at the Cycle Cafe (which once used to be part of the Greystoke Castle Estate and is situated on a roman road) you will start using the things you have learned.

You'll be amazed by your unknown intuitive skills. A lot of time will be spent outside, so please come prepared. If you are able -please bring 2 wire coat hangers. Eleanor is a well known member of the British Society of Dowsers and has spent many years using dowsing.

She will be travelling across from North Yorks. to join us for the day and will donate her fee to a charity that she and the BSoD actively support, involved in helping Mozambique villagers locate pure sources of drinking water.
---
Return to Table (with prices, dates, availability)
Buttons. Bud Vases and Tea Lights - Textures in Ceramics with Gwen Bainbridge
This day is suitable for all abilities.
Your pieces can be detailed in white or a slip or lustre added to highight the textures that you have incorporated.

Adding a lustre might incur an extra firing charge

2015 dates

Tue 30 June

Fri 6 November

9.30am - 4pm

£74 inc a lovely 2 course lunch etc

Much of Gwens work is defined by the unique incorporation of textile

pattern into her porcelain, making her work so

unique and admired.

Gwen will start the day by introducing you to porcelain clay, a beautiful material to work with; you are able to make quite fine pots as a complete beginnner. You will learn how to roll the clay to a useable thickness, then roll lace patterns of your choice into the clay. Once leather hard you will construct a slab pot, which may be a vase, or tea light. These pots may then be further emblelished with clay buttons or lace, all of which Gwen will skillfully show you how to do. A coloured slip may be added at this stage to show up the texture in the lace patterns. Scraps of embelished clay may be made into buttons or jewellery.

If you have a particular piece of lace or textured fabric that you would like to incorporte into the vase then do bring it along, Gwen will advise if it is suitable for using, maybe you have a piece of lace from your wedding dress/veil you would like to immortalise in a vase. A lovely course for mother and daughter to come to together.

There will be an additional cost for materials used (including both clay and 2 firings of the clay) of £10, payable to the tutor on the day. You should be able to make atleast 2 vases and 2 tea lights

in a day and use the remaing clay to make some small dlicate decorations

The vases can be posted to you if you are not local, at an additional charge of £10, or if you refer you can collect from Greystoke Cycle Cafe.

About me

I see my work as a three-dimensional scrap-book coming from both memories of my childhood and from my response to the experiences brought about through research in books, rummaging through bric a brac, antique fairs, old photographs and magazines. I'm always on the lookout for items that I might use in my work, both for inspiration and for direct practical use. I'm drawn to decorative items. Even as a child I had favourite buttons from my mum's button box that I played with. There were some beautiful green glass dishes that were brought out for parties and the best china laid out when the minister was coming for tea. These are very strong memories for me. But alongside this finery there was the informal, natural world of my surroundings living on a rural farm in Cumbria. The hedgerows where we found birds nests with the treasured little eggs of wild birds, which we watched until they hatched and finally fledged.


I find that nature itself seems too perfect to try to reproduce. I tend to explore the work of craftsmen of the past who themselves might have been first inspired by the natural world. I appreciate the finery of the costumes of bygone eras, and the distinctive qualities of their production. The more limited and yet still lavish colour palette of Elizabethan times, the retro styles of the 1950s and 60s. It's quite an eclectic cocktail of inspiration stored in my mind and continually re-visited.
---
Return to Table (with prices, dates, availability )
Life Head Sculpture Workshop with Fliss Watts
Suitable for all abilties
Life Workshop Head Sculpture

with Fliss Watts

£74 inc lunch

Sun 7th June 2015

Sun 1st Nov 2015

9.30 -4.30

£74 inc tuition and a lovely 2 course lunch

This is an opportunity to try your hand at modelling a portrait head in clay from a live model under the

expert guidance of Fliss Watts.

A base board will have been prepared for you onto which Fliss will show you how to prepare the complete armature and create a solid structure capable of hoiding the clay. You will then be carefully guided

through the various stages and considerations of head sculpture with clay - a forgiving medium as you can add,

take away and improve ad infinitum.

The model will arrive at 10am and the rest of the day will be spent sculpting - there is a must see video link to the left showing

Fliss demonstrating the fascinating process.


There will be further discussions on types of armatures, mouldmaking and casting in various materials.


This workshop could also be useful for artists who work in 2-d to study the anatomy of the head in the round.


There will be an additional charge to pay on the day

around £10 to £15 to cover materials

and the model's sitting fee.

Every human face is unique.

If at the end of the day you are so delighted with your sculpture and wish to take it home there may be a small charge for the base board.


Fliss will explain options for firing and casting if you wish to ensure your piece lasts forever.
---
Make your own Bespoke garden labels with Clare Farley of Pinfold Pottery
for Gardeners . .arrange your own 1/2 day with your gardening friends to

Make your very own bespoke named

Rustic pottery Garden Labels

morning or afternoon sessions £33

includes fresh coffee at the start & materials

As well as being lovely to things to have in your

own garden, these also make amazing presents for

special gardening friends.

Christmas, Wedding presents, New Home Birthday

All gardeners would love these

Better still , if you know your friends grow

Pak Choi and Lollo Rosso, chard and rocket rather than 'Lettuce' - then you can make/ cater exactly to their needs

Please get a few of your friends together and

we can arrange a garden labels workshop especially

for you Min 6 persons

£33 per 3 hr session inc materials for 12 labels

Perfect as a wedding present and a lovely day making it

If there is time you can simply pay Clare directly for another amount of clay (£5 to 10) and this charge will of course include the firing and glazing too.

Clare will bring the fired pieces back to the Cycle Cafe.

Alternatively the pieces can be posted back to you directly, though of course there will be an additional postage and packing charge incurred for this.
Return to Table (with prices, dates, availability )
Calligraphy Workshop with Gaynor Goffe
This course is suitable for all levels from beginner to advanced, as most of the tuition is on an individual basis, with frequent group demonstrations too.
Sat 18th Sun 19th April 2015

9.30 - 4.30pm

£155 inc

a lovely 2 course lunch etc

Calligraphy is a satisfying and

creative craft

Two day Calligraphy Workshop

Gaynor Goffe

is one of the UK's foremost calligraphers and we're very

excited she is comng to Greystoke again for 2015 -

only rarely does she travel north.

Gaynor hs worked with calligraphy since 1974 and has taught

many of today's most prominent calligraphers.

This weekend course provides a unique opportunity for

both aspiring and existing calligraphy students.

Beyond Beginners

Those with more calligraphic experience can expect to improve

their skill in one or more scripts of their choice, and widen

their repertoire through experiment with letterform and lay-out.

For Beginners

Those who are new to the craft will

find Gaynor a patient and encouraging

tutor and will learn to create sound letterforms,

correct letter spacing and

the basic lay out and design for an

early calligraphy base.

Over the two days these beginners will become

well versed with the necessary skillls and

attain enough experience and competence to

use a basic script at home

Gaynor is particularly interested in the more

personal, creative aspect of calligraphy, working with

painted backgrounds, gold leaf and collage, and

experimenting with capitals and cursive scripts.

She has written two calligraphy books:

'Calligraphy Made Easy' Parragon/Robinson

and 'Calligraphy Step-by-Step' ( with Anna Ravenscroft) HarperCollins (titled 'Calligraphy School ' overseas).

She is a long-standing fellow of the

Calligraphy & Lettering Arts Society and

the Society of Scribes & Illuminators, and

works to commission and for exhibition.

Techniques

You can learn, improve or experiment with an edged-pen

script, choosing from uncial, italic, foundational hand,

amongst others, and use the script with colour in the pen and background in the lay-out and design of short quotations.

These terms will be explained.

This course is also very useful for those

interested in Stone Carving

(June & Sept at Greystoke with the talented Pip Hall)

Gaynor has considerable relevant experience in

calligraphy for stone carving - her own husband Tom Perkins

is himself an equally celebrated Stone and Letter carver.

A full equipment list will be posted shortly.

Iit is preferable that students bring along a small desktop drawing board - A2 size

Main Programme table containing availability

& above information

'Hamada' typeface designed by Gaynor Goffe digitized by Akira Kobayashi for Linotype
---
Return to Table (with prices, dates, availability )
Design and Block Print a Lampshade & Cushion Top with Georgia Wilkinson
This day also features in the Textiles page
2015 dates

Sun 14th June

Tues 17th Nov

9.30 -4pm

£74 inc a lovely 2 course lunch

A Design, Print and Make day

with Georgia Wilkinson

Georgia Wilkinson

is a trained Surface Pattern Designer who worked in the

studio of a textile printers for such companies as

Vanessa Arbuthnott and Lewis & Wood –

both popular quintessentially English fabric designers

There will be an additional materials charge of

between £10 and £15 payable

to Georgia on the day

I trained in Surface Pattern Design and later worked in the studio of a textile printing factory in London, working on designs for companies such as Bennison, Vanessa Arbuthnott and Lewis & Wood.

After three years I was beginning to miss the green spaces of rural North Yorkshire, where I had grown up. Returning to my roots I set up jorja wilkinson design in 2009, running the business from a 1930s cricket pavilion studio.

- See more at: http://www.jorjawilkinsondesign.co.uk/about#sthash.ORVV7Uq0.dpuf

I trained in Surface Pattern Design and later worked in the studio of a textile printing factory in London, working on designs for companies such as Bennison, Vanessa Arbuthnott and Lewis & Wood.

After three years I was beginning to miss the green spaces of rural North Yorkshire, where I had grown up. Returning to my roots I set up jorja wilkinson design in 2009, running the business from a 1930s cricket pavilion studio.

- See more at: http://www.jorjawilkinsondesign.co.uk/about#sthash.ORVV7Uq0.dpuf

I trained in Surface Pattern Design and later worked in the studio of a textile printing factory in London, working on designs for companies such as Bennison, Vanessa Arbuthnott and Lewis & Wood.

After three years I was beginning to miss the green spaces of rural North Yorkshire, where I had grown up. Returning to my roots I set up jorja wilkinson design in 2009, running the business from a 1930s cricket pavilion studio.

- See more at: http://www.jorjawilkinsondesign.co.uk/about#sthash.ORVV7Uq0.dpuf

Over first coffees Georgia will tell you a little about her self and explain what is possible over the day,

with hints and tips for your design in mind suitable for a repeat pattern.

Once your design is finalised pn paper you will learn to make block prints using a variety of mixed media tools

and you will practise on paper before turning and printing up the cotton panama fabric

she supplies.

The material for the lampshade will be then cured and hand rolled and carefully finished into a lampshade.

A further pieces of fabric may be printed for a matching cushion cover front

to take home and make a cushion You can choose to make either a small table lamp shade or a larger pendant ceiling shade -

Georgia wil advise on print types according to shade sizes.
---
Return to Table (with prices, dates, availability )
Introduction to Letterpress Printing with Nick Loaring of 'The Print Project'
'The Print Project' and Nick Loaring are coming to Greystoke

on

Wed 29th & Thu 30th July 2015

9.30 -4.30pm each day

£195 pp inc all refreshments / lovely 2 course lunch/ cream teas etc

Materials charges £20 pp payable on the day

Accommodation is available locally. Please don't wear your best frock

If you've ever wanted to immerse yourself in the world of letterpress printing

but been unable to find anywhere that lets you get 'down and dirty' with large

pieces of type covered in ink for days on end,

then this two day workshop is your chance to do just that.

Nick is passionate about the hands on aspect of letterpress printing,

from beautifully set passages of text set in fiddly 12pt type to

creating playful imagery with large pieces of woodtype covered in ink right through

to harnessing the power of modern technology to create striking imagery

through the use of laser cutting and found objects.

After having spent years rescuing all types of printing equipment big and

small he can now provide this unique opportunity for others to 'have a go'

at making something truly unique. Apparently he has various bike shapes

in his type cases too. Nick can also be found on his special pitch with concrete foundations each June at Glastonbury Festival, printing the

all important festival's daily paper amongst the ever

popular 'Free Press' posters.

Nick will explain the magic of letterpress printing, taking you through the processes and plan for the weekend before letting you loose with equipment bought from the Shipley workshop,

including many many cases of wood & metal type, (some dating back 150+ years), proofing presses, enough ink to float a battleship and

mountains of paper.

The course is aimed at those who wish to complete a project from start to finish. With on hand guidance & best practice available in bucketfuls

you will go away at the end of the weekend with items of printed beauty and a head full of new ideas.

With luck we may even be working in the garden with the presses under gazebos

The course will cover: Working with wood & metal type

Working with colour ~ Good working practice ~ Ink mixing & inking techniques

The aim of The Print Project is to keep the skill and art of letterpress printing alive by producing work which is incredible to read, feel and touch. It's that simple.

They actively salvage, recycle and re-use print equipment (ink, type, paper etc) which is rendered obsolete by commercial interests.
---
Return to Table (with prices, dates, availability )
Reduction Linocut printmaking . . .with Janet Dickson
This course is suitable for all abilities

Reduction Linocut printmaking

Tue 26th May

Fri 27 Nov

10 - 4pm

£74 inc a lovely 2 course lunch

We are delighted that Janet has agreed to

travel from her Northumberland home & print studio

to take her wonderful

Linocut courses at Greystoke.

Her style, love of garden, flora and landscape

fit perfectly; and hopefully we'll be holding at least

one of her courses in the garden!

About Janet

Janet Dickson is a printmaker whose work interprets pattern and design in the garden and landscape, creating, lithographs

and monotypes as well as her multilayered linocuts.

Many of Janet's prints begin life in her sketchbooks, from drawings made on location.

"I am inspired by plants and natural forms, as a gardener and a printmaker - from their colour and the detail

of their structure to the visual impact they have on their surroundings.

The garden, therefore, is one of my key subjects, but colour, structure and pattern in landscape draws me too.
Drawing underpins my work - it is where many of my prints begin and the processes I choose allow me

to incorporate drawing in some form or other.


The examples of work you see here embody my practice'.

Material charges & what to bring

Please bring an apron and wear non precious clothes -

printing is messy and the ink stains.

There will be a materials charge of between £7 and £10 payable directly to the tutor on the day dependng on the amount of work produced.

During the class Janet will teach students the importantce of design suitable for linocut, how to create and cut using the different tools provided, learn about various inks , using rollers and blending colours.

Students will be creating a multi layer print using several colours if required.

They will be printing by hand, without the need for a press.

The size of each linocut will be approx A5 size
Return to Table (with prices, dates, availability )