We have limited parking at the Cycle Café but can offer 2 spaces to workshop students in our driveway
if you cannot manage the 150-350 yd short walk from the village (4 to 8 mins)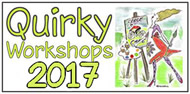 The email detailing 'What's new' for 2017' is viewable at above picture link
Quirky Workshops 2017
New courses /extra dates marked in yellow
New Herdwick doorstop date added Sun 10th Sept with Annis McGowan
Upholster a drop in chair seat Fri 25 August and - Build and upholster a Queene Anne or Classic footstool Wed 1st Nov with Paula from 'Muster' home interiors
added 14/5
New Artisan Cheesemaking day Sat 2nd September added 14./5
New Lampshade making morning and afternoon x 2
Sunday 13 August 10am - 12.30pm --------------- Sunday 13 August 1.30pm - 4pm ------------- Sunday 13 August 4.45pm -7.15pm
Appliqué Relief Tiles in Porcelain added Fri 30th June and Sat 9th Sept
Added 25/4
A day discovering Raku new mid week August dates Wed 23 or Thu 24 Aug
Added on 19/4/17
Traditional Cobbling in the Garden Wed 28th or Thu 29th June with Adam Beeston
Reduction lino cut printing with Janet Dickson autumn date Tues 3rd October
New dates have been added in late March for
Cyanotype printing Tuesday 8th August ~ Wildlife Whittling Whittling 'Bird in a Day' Sun 11 June
If you find any anomalous dates or faulty links we would be grateful if you'd let us know - thank you
| | | | | | | | |
| --- | --- | --- | --- | --- | --- | --- | --- |
| | | | | spaces | | | |
| Mar 17 | | | | | | | |
| | Fri | 10 | | ltd | £75 | 9.30- 4.30 | Simon Williams SBA |
| | Sat | 11 | | ltd | £75 | 9.30- 4.30 | Simon Williams SBA |
| | Sun | 12 | | ltd | £75 | 9.30- 4.30 | Simon Williams SBA |
| | Tue | 14 | Bush craft - Whittling Wildlife 'A Bird in a Day' | full | £75 | 9.30 - 5pm ish | Dave Harter |
| | Wed | 15 | Rag Rugs, wall hangings & seat covers Hooky & Proddy | ltd | £75 | 10 - 4pm | Heather Ritchie |
| | Fri | 17 | | full | £75 | 10 - 2.30 | Gill Harris |
| | Fri -Mon | 17-20 | 3D Stone Sculpture Carving starts from 4.30pm Fri latest 7pm to 9pm | ltd | £330 | 9.30 - 4.30 | Simon Keeley |
| | Sat | 18 | | full | £75 | 9.30- 2.30 | Rachael Shreeve |
| | Sun | 19 | | full | £75 | 10 - 2.30 | Gill Harris |
| | Mon | 20 | | full | £68 | 9.30- 4pm | Annis McGowan |
| | Sat | 25 | | ltd | £75 | 9.30- 2.30 | Rachael Shreeve |
| | Sun | 26 | | ltd | £78 | 10 - 4pm | Dan Richards |
| | | | | | | | |
| April 17 | | | | | | | |
| Easter | Fri | 14 | | full | £78 | 10 - 4.00 | Dan Richards |
| Easter | Sun, Mon | 16-17 | | full | £155 | 10 – 4.30 | Melinda Scarb'ugh |
| | Thu | 20 | | full | £68 | 9.30- 4pm | Annis McGowan |
| | Fri | 21 | | full | £35 | 10 – 12.30 | Georgia Wilkinson |
| | Fri | 21 | | 1 | £35 | 1.30 – 4pm | Georgia Wilkinson |
| | Sat | 22 | Buttons, Bud vases & Tea lights ~ Textures in Porcelain | full | £75 | 9:30-4pm | Gwen Bainbridge |
| | Fri | 28 | | ltd | £75 | 9.30 – 4.30 | Sonja Tilleard |
| | Sat | 29 | | full | £78 | 10 - 4pm | Dan Richards |
| | Sat | 29 | | full | £25 | 5 - 7.30pm | Dan Richards |
| | Sun | 30 | Make a Leather Handled Tote Bag with 'Hole House' | full | £75 | 9.30 – 4pm | Emma Redfern |
| | | | | | | | |
| May 17 | | | | | | | |
| B. Hol | Mon | 1 | Bush craft - Whittling Wildlife'A Bird in a Day' | 1 new | £75 | 9.30 - 5pmish | Dave Harter |
| | Thu,Fri | 18,19 | | full | £155 | 9.30– 4.30 | Gaynor Goffe |
| | Sat | 20 | | full | £68 | 9.30- 4pm | Annis McGowan |
| | Sat | 20 | | 1 new | £100 | 9.30 –4.30ish | David Alty |
| | Sun | 21 | | full | £100 | 9.30 – 4.30ish | David Alty |
| New | Wed | 24 | | full | £75 | 10 - 2.30 | Gill Harris |
| | Sun | 28 | Blacksmith for a Day - Dragon Hook | full | £115 | 9.30- 4.30 | Adrian Wood |
| | Mon | 29 | | full | £75 | 9.30- 2.30ish | Rachael Shreeve |
| | | | | | | | |
| June 17 | | | | | | | |
| | Thu | 1 | Woven Baskets & Bowls ~ weave rushes, grasses & more | ltd | £75 | 9.30 -4pm | Averil Otiv |
| Whit | Sat | 3 | | full | £82 | 10 - 4pm | Jo Dix |
| | Sat | 3 | A Day discovering Raku ~ Pottery workshop | full | £75 | 9.30-4.30 | Dave Norman |
| | Sun | 4 | | full | £78 | 10 - 4pm | Dan Richards |
| | Sun | 4 | | full | £25 | 5 - 7.30 | Dan Richards |
| | Sun | 4 | | full | £100 | 9.30 -4.30 | David Alty |
| | Tue | 6 | Willow Sculptures Hares | full | £78 | 9.30-4pm ish | Phil Bradley |
| | Wed | 7 | Willow Sculptures Sheep | full | £90 | 9.30-4pm ish | Phil Bradley |
| New | Sat | 10 | | 4 | £68 | 9.30- 4pm | Annis McGowan |
| New | Sun | 11 | Bush craft - Whittling Wildlife 'A Bird in a Day' | 3 | £75 | 9.30 - 5pm ish | Dave Harter |
| | Sun | 11 | A Day discovering Raku ~ Pottery workshop | full | £75 | 9.30-4.30 | Dave Norman |
| | Thu | 15 | Reduction Linocut printmaking Autumn date coming- please contact us | full | £85 | 10 -4pm | Janet Dickson |
| | Fri | 16 | | 3 | £75 | 9.30 – 4.30 | Sonja Tilleard |
| | Sat | 17 | | full | £75 | 9.30 – 4pm | Emma Redfern |
| | Wed | 21 | The Art of Spinning on a Spinning Wheel & Drop Spindle | full | £75 | 9.30 -3.30 | Marion Woolcott |
| | Thu | 22 | | ltd | £75 | 10 - 4pm | Maggi Toner Edgar |
| | Sat | 24 | | ltd | £68 | 9.30 – 4pm | Marieke Tomlin |
| | Sat, Sun | 24-25 | English Longbow Making 2 day Course Traditional method | full | £180 | 9.30 -4.30 | Tony Saunders |
| | Sun | 25 | | full | £68 | 9.30- 4pm | Annis McGowan |
| New | Wed | 28 | Traditional Cobbling techniques in the garden | 1 | £55 | 9.30-4pm | Adam Beeston |
| New | Thu | 29 | Traditional Cobbling techniques in the garden | 2 | £55 | 9.30-4pm | Adam Beeston |
| | Fri | 30 | | yes | £75 | 10 – 4.30pm | Gwen Bainbridge |
| | | | | | | | |
| July 17 | | | | | | | |
| New | Sat | 1 | Small Hand stitched leather goods - belts and purses | ltd | £75 | 10 - 4pm | Ruth Pullan |
| | Sun | 2 | Buttons, Bud vases & Tea lights ~ Textures in Porcelain | ltd | £75 | 9:30-4pm | Gwen Bainbridge |
| | Sun | 2 | | yes | £75 | 9.30-4pm | Wendy Wilkinson |
| | Sat, Sun | 8,9 | Stained Glass Panel 2 day course | full | £155 | 9.30- 4.30 | Jackie Hunt |
| | Sun | 9 | | yes | £68 | 10– 4.30pm | Marieke Tomlin |
| | Sat | 15 | Intro to Glass Fusing Jewellery, coasters, Xmas dec | ltd | £75 | 10 - 4pm | Marilyn Hale |
| | Sun | 16 | Make a Leather Handled Tote Bag with 'Hole House' | yes | £75 | 9.30 – 4pm | Emma Redfern |
| | Sun | 16 | Blacksmith for a Day Rams head Pokers | full | £115 | 9.30- 4.30 | Adrian Wood |
| | Wed | 19 | Willow Sculptures Hares | ltd | £78 | 9.30 - 4pm | Phil Bradley |
| | Thu | 20 | Willow Sculptures Deer | ltd | £78 | 9.30 - 4pm | Phil Bradley |
| | Fri | 21 | Knife Forging Workshop 4 spaces max book through Mark - see details on link | full | £140 | 9.30 - 4.30 | Mark Constable |
| | Sat | 22 | Knife Forging Workshop 4 spaces max | full | £140 | 9.30 - 4.30 | Mark Constable |
| | Sun | 23 | Knife Forging Workshop 4 spaces max | full | £140 | 9.30 - 4.30 | Mark Constable |
| | Sun | 23 | Bush craft - Whittling Wildlife' A Bird in a Day' new date added Sun 11 June | full | £75 | 9.30 - 5pm ish | Dave Harter |
| | Thu | 27 | | yes | £75 | 9.30 -4.30pm | Damien Rochford |
| | Thu | 27 | | yes | £100 | 9.30 –4.30ish | David Alty |
| | Fri | 28 | | yes | £75 | 9.30 -4.30pm | Damien Rochford |
| | Sat | 29 | | full | £100 | 9.30 –4.30ish | David Alty |
| | Sat | 29 | Garden Mosaics ~ pots, tables & more | ltd | £75 | 10 - 4pm | Keeley Metcalfe |
| | Sun | 30 | | yes | £75 | 9.30 -4.30pm | Damien Rochford |
| | Sun | 30 | A Day discovering Raku ~ Pottery workshop | 5 | £75 | 9.30-4.30 | Dave Norman |
| | | | | | | | |
| Aug 17 | | | | | | | |
| | Fri - Sun | 4-6 | Wood Block Engraving 3 days Illust. of 'Feather Report' | yes | £185 | 9.30 - 4pm | Peter Brown |
| | Sat | 5 | A Day discovering Raku ~ Pottery workshop | full | £75 | 9.30-4.30 | Dave Norman |
| | Sun | 6 | A Day discovering Raku ~ Pottery workshop | 1 | £75 | 9.30-4.30 | Dave Norman |
| New | Tue | 8 | | ltd | £75 | 9.30 -4pm | Kim Tillyer |
| | Sat, Sun | 12,13 | English Longbow Making 2 day Course – traditional method | 2 | £180 | 9.30 -4.30 | Tony Saunders |
| New | Sun | 13 | | yes | £35 | 10 – 12.30 | Georgia Wilkinson |
| New | Sun | 13 | | yes | £35 | 1.30– 4pm | Georgia Wilkinson |
| New | Sun | 13 | | yes | £35 | 4.45 -7.15pm | Georgia Wilkinson |
| | Tue | 15 | | Yes | £75 | 9.30 – 4.30 | Sonja Tilleard |
| | Wed,Thu | 16-17 | | full | £155 | 10 – 4.30 | Melinda Scarb'ugh |
| | Wed | 16 | Greenwood Pole Lathe Turning Beginners | yes | £75 | 9.30 -4.30 | Chris Helliwell |
| | Thu | 17 | Greenwood Pole Lathe Turning BOWL TURNING - some exp. reqd. | ltd | £75 | 9.30 -4.30 | Chris Helliwell |
| | Sat | 19 | | full | £82 | 10 - 4pm | Jo Dix |
| New | Wed | 23 | A Day discovering Raku ~ Pottery workshop | yes | £75 | 9.30-4.30 | Dave Norman |
| New | Thu | 24 | A Day discovering Raku ~ Pottery workshop | yes | £75 | 9.30-4.30 | Dave Norman |
| New | Fri | 25 | Upholster a 'Drop' in Chair Seat details to follow | yes | £75 | 9.30-4.30 | Paula from 'Muster' |
| | | | | | | | |
| Sept 17 | | | | | | | |
| new | Sat | 2 | | yes | £75 | 9.30- 2.30ish | Rachael Shreeve |
| | Sun | 3 | Make a Slouch Bag with 'Hole House' | yes | £75 | 9.30 – 4pm | Emma Redfern |
| New | Sat | 9 | | yes | £75 | 10 – 4.30pm | Gwen Bainbridge |
| | Sun | 10 | | new yes | £68 | 9.30- 4pm | Annis McGowan |
| | Sun | 17 | | yes | £75 | 9.30 – 4pm | Wendy Wilkinson |
| | Wed | 20 | | yes | £75 | 10 - 4pm | Ruth Pullan |
| | Thu | 21 | | Yes | £75 | 9.30 – 4.30 | Sonja Tilleard |
| | Fri | 22 | | yes | £75 | 10 - 4pm | Maggi Toner Edgar |
| | Sat | 23 | | yes | £75 | 9.30 -4.30 | Caroline King |
| New | Sun | 24 | | yes | £68 | 9.30- 4pm | Annis McGowan |
| | Sun | 24 | A Day discovering Raku ~ Pottery workshop | 4 | £75 | 9.30-4.30 | Dave Norman |
| | Tue | 26 | | yes | £68 | 10– 4.30pm | Marieke Tomlin |
| | | | | | | | |
| Oct 17 | | | | | | | |
| New | Tue | 3 | | full | £85 | 10 -4pm | Janet Dickson |
| | Wed Thu | 4,5 | Stained Glass Panel 2 day course | ltd | £155 | 9.30 - 4.30 | Jackie Hunt |
| | Sat | 7 | | full | £82 | 10 - 4pm | Jo Dix |
| | Sun | 8 | | yes | £68 | 9.30 – 4pm | Marieke Tomlin |
| | Sun | 8 | Blacksmith for a Day - Dragon Hooks | ltd | £115 | 9.30- 4.30 | Adrian Wood |
| | Tue | 10 | The Art of Spinning on a Spinning Wheel & Drop Spindle | ltd | £75 | 9.30 -3.30 | Marion Woolcott |
| | Wed | 11 | | full | £75 | 10 - 2.30 | Gill Harris |
| | Thu | 12 | Rag Rugs, wall hangings & seat covers Hooky & Proddy | ltd | £75 | 10 - 4pm | Heather Ritchie |
| | | | | | | | |
| Nov 17 | | | | | | | |
| New | Wed | 1 | | yes | £125 | 9.30- 4pm | Philippa Turnbull |
| | Sat | 4 | | yes | £75 | 9.30- 4pm | Philippa Turnbull |
| | Sun | 5 | Make a Box Clutch Bag with 'Hole House' | yes | £75 | 9.30 – 4pm | Emma Redfern |
| | Tue | 7 | Woven Baskets & Bowls ~ weaving rushes, grasses & more | yes | £75 | 9.30 -4pm | Averil Otiv |
| | Wed | 8 | Hand weave a scarf on a table loom Beginners/ Tartans | ltd | £68 | 9.30 -4pm | Jan Beadle |
| | Thu | 9 | | yes | £75 | 9.30- 4pm | Georgia Wilkinson |
| | Fri | 10 | Buttons, Bud vases & Tea lights ~ Textures in Porcelain | yes | £75 | 9:30 – 4pm | Gwen Bainbridge |
| | Tue | 14 | Intro to Glass Fusing jewellery, coasters, Xmas decs | yes | £75 | 10 - 4pm | Marilyn Hale |
| | Wed | 15 | | 1 | £68 | 9.30- 4pm | Annis McGowan |
| | Thu | 16 | Willow Sculptures Sheep | Yes | £90 | 9.30 - 4pm | Phil Bradley |
| | Fri | 17 | Willow Sculptures Hens and Cockerels | yes | £78 | 9.30 - 4pm | Phil Bradley |
| | Sun | 19 | Make a Leather Handled Tote Bag with 'Hole House' | yes | £75 | 9.30 – 4pm | Emma Redfern |
| | Tue | 21 | | yes | £68 | 9.30 – 4pm | Marieke Tomlin |
| | Wed | 22 | | full | £75 | 10 - 2.30 | Gill Harris |
| | Fri, Sat | 24,25 | | full | £155 | 10 - 4.30 | Melinda Scarb'ugh |
| | Sun | 26 | Blacksmith for a Day Rams Head Pokers | 3 | £115 | 9.30- 4.30 | Adrian Wood |
| | Tue | 28 | The Art of Spinning on a Spinning Wheel & Drop Spindle | yes | £75 | 9.30 -3.30 | Marion Woolcott |
| | Thu | 30 | Hand weave a scarf on a table loom Beginners & twills | ltd | £68 | 9.30 -4pm | Jan Beadle |
| | | | | | | | |
| Dec 17 | | | | | | | |
| | Sun | 3 | Appliquéd purse & Clasp Purse day with 'Hole House' | yes | £75 | 9.30 – 4pm | Emma Redfern |
| | Tue | 5 | Willow Sculptures Hares | Yes | £78 | 9.30 - 4pm | Phil Bradley |
| | Wed | 6 | Willow Sculptures Angels | yes | £78 | 9.30 - 4pm | Phil Bradley |
| | Fri | 8 | | yes | £68 | 9.30 – 4pm | Marieke Tomlin |
| | | | | | | | |
How to Book How to give a Voucher
Courses coming soon with spaces

Sun 11th June

Whittle a

Bird in a Day

with Dave Harter £75 inc lovely lunch

20% off last few places

Sat 10th June

extra new date

Needle Felt Hare doorstop

with Annis McGowan

£68 inc a lovely lunch

last few places 20% off
How to book a Course at Greystoke
see below for ways to give Workshops as presents and buying Open Vouchers
To Book a course please email with your initial requirements using this grey table below
(if the table doesn't work, please send the information requested in an email )
Your name will be pencilled in and full payment will be required before your place can be confirmed.
See below for 3 Ways to pay from BACS, cheque, or Open voucher?
Copy the table & Click here to email your booking
+ + + + + + + + + + + + + +
( please copy and paste this grey table into an email to us
if the table misbehaves, just send us the req'd info without headings- we can work it out!!
make sure you start the copying process including both lines of + + + + signs
Course Name

Course Cost

Will you pay by

cheque?

Voucher?

BACS?

Is this a present?

A special occasion?

Who is it from?

(if you would like this

mentioned on the confirmation)

Please answer all 3 questions

Attendee

phone number(s)

Please include mobile and home numbers

just in case we need to make

quick contact

prior to the course

Attendee

email

Attendee

Home town & county

Any food reqs?

All lunches are veggie anyway

Do they need

special

parking ?

**

How did you

hear about

this course

please??
**WALKING- Can they walk 150yds - 350yds of flat country lane walking through Greystoke or do they need to reserve one of the 2 spaces here in our driveway - or they can be dropped off ? **
+ + + + + + + + + + + + + +

.
There are 3 ways to pay . . .

1. Cheque with course name & date on reverse, payable to QUIRKY WORKSHOPS & post to Greystoke Cycle Cafe, Greystoke , Penrith, Cumbria CA11 0UT

If the course date is within 6 months, the full amount please. If course date is July onwards please send a deposit cheque or bacs of 50% and a second cheque post dated to 1st May 2017 for the balance

We can sometimes accommodate several spread payments - please ask.

2. OnlineTransfer - this is a free and fast method of payment- please email us for online banking BACS details

3. Our Quirky Open Voucher - which must be valid and we will need the V Code at the bottom & the date it was purchased
Your booking will be confirmed by email along with details of parking/walking maps/times etc in the weeks preceeding
your course as a reminder. If you are buying someone a Christmas present the confirmation is sent earlier- see below 2 Choose a Specific workshop with a date
To buy a Quirky Open Vouchers use Paypal as below.
Those without Paypal accounts can still use Debit /Credit Visa cards with this facility
Courses marked Full?
We always hold waiting lists for courses - please let us know if you would like to register interest in a course when it's full,
Quite often people get last minute spaces .
Cancellations Policy
If you need to cancel your place on a workshop:
Please tell us as soon as possible.


If you tell us more than 4 weeks prior to the workshop date, you can transfer to another workshop, subject to availability or alternatively revert to a credit that must be used within that calendar year. In both instances a 20% admin fee will be payable.


If you tell us with less than 4 weeks' notice, your payment is non-refundable and non-transferable.


If we manage to re-sell your place within 4 weeks of the course date we will refund your payment minus a 20% cancellation fee or give you a credit less 20% to be used within that calendar year.


As always, the very best solution is to find someone else to take your place. Just inform us of the name change and any dietary requirements before the day.
If we need to cancel a workshop:
We try very hard not to disappoint people, but occasionally we may have to cancel a workshop due to a tutor illness or other unforeseen circumstances.


We will always endeavour to give you as much notice as possible.


You will be given the option to transfer to another workshop, subject to availability.


If this is not possible or desired, you will receive a full refund of any fees and deposits paid.


We do make every effort to find replacement tutors but at short notice this is not always possible.


We are unable to refund travel or accommodation costs or any other consequential costs you may have incurred.
Giving Workshops as Christmas or birthday presents etc & buying Open Vouchers
Students say they love receiving Quirky Vouchers & Days as gifts! Perhaps because there is no sense of guilt from self indulgence and as a gift, the recipient 'has to' actually book
themselves a lovely day out . Quirky days are designed to be treats, with fresh coffees, home made biscuits, tasty 2 course Aga lunches and a cream tea
There are three ways of treating someone to a Quirky Workshop this Christmas and beyond
1. Give an Open Voucher

2. Choose a Specific workshop with a date

3. Give a Type of workshop as a gift, ie Be a Blacksmith for a Day' or 'Make a Handbag with Hole House' and let them select their date - this means there is no mention of cost on the voucher. Please allow extra time for us to prepare the voucher.
1. Open Vouchers for any occasion from £15 to £200
Open Vouchers are great as a flexible present, give someone a treat of an experience day without trying to second guess their choice
They can enjoy browsing the website and choosing their own workshop, look forward to their workshop, enjoy a great day out and leave with something
they've made as a reminder. Sometimes the one who has purchased the gift joins in on the day aswell, meaning a special day out is
enjoyed together and your creations will always serve as a fond reminder.
Buying an Open voucher online is easy (see 1,2,3 below ),
2. Choosing a Specific Workshop with a date for someone
If you wish to give someone an actual course as a present on a specific date just email us to
check spaces and book a place etc using the table above .
Once paid for in full, we will then email to YOU their confirmation to print off and put inside their card
The confirmation will be addressed to them providing all course/accomm details and can even say who the day was given from -
it will be a warmly worded letter to receive (click below example)
WORRIED ABOUT THE DATE?
REGARDING any 2017 course you book and gift in December 2016. . . the recipient has between Jan 8th & Jan 20th 2017 to email to request a change to another course date or revert to a credit that will be valid for any courses in 2017 without incurring a 20% administration charge.
Do bear in mind, some types of courses book up quickly, so its best to try to get the right date at the outset if possible
Make sure you tell us WHOM the present is from if required
The office will not be open over the Christmas period - don't leave things til the last minute. Only Open vouchers will be available once closed.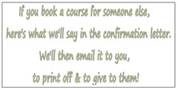 3. Giving a 'Type of course' with no fixed date
If you would prefer to give someone a course type without mention of cost or date, that's fine too.
Make you choice, use the grey table How to Book and we will send a voucher
We can provide a course gift voucher for specific occasions (50th birthday/anniversary / retirement etc or a type of course ie Blackmith day )
this might take slightly longer - 3 or 4 days perhaps - please allow for this,
just email us using the table above and mention you would like a give a 'Type of course' voucher

You do NOT need a paypal account to pay through Paypal - Debit or Credit card / Visa etc can be used instead.
If you need a denomination not shown, make up the sum total and using the white box to let us know- we will email you a special voucher ie for £85 if preferred.
This may take slightly longer
Open Vouchers

purchase

& print

follow

1,2,3

Choose the amount

you want to spend

You do NOT need a paypal account to pay through Paypal as

Debit or Visa cards

are also OK

1,2,3

Use the white box to tell us about

the recipient if poss. Name/ phone number please, if available.

This helps if they lose

their voucher) thank you .

If you're not sure who it's for that's fine too!

Pay the relevant amount

using below Add to Cart

icon , then use

'View Cart' at the end

1,2,3

YOU print off

your voucher choosing

Xmas or general

We'll email you a special Authorisation V Code

thats shows you've paid.

It might take up to 24 hours for this to arrive.

( If you're unable to wait for our VCode,

please use the DATE plus

first 8 digits of Paypal's long Transaction

code so we can still

locate purchase when redeemed-

thank you)

Quirky Workshop Open Voucher

Quirky Workshop

Open Voucher

Quirky Workshop

Open Voucher

Quirky Workshop

Open Voucher

£35

Open

Quirky Workshop

Open Voucher

Quirky Workshop

Open Voucher

Quirky Workshop

Open Voucher

Quirky Workshop

Open Voucher

Quirky Workshop

Open Voucher

Quirky Workshop

Open Voucher

Quirky Workshop

Open Voucher

Quirky Workshop

Open Voucher
Open vouchers bought during 2016 must be used to book a course before the end of 2017
Some feedback from Voucher gift holders and givers
Just wanted to say a huge thank you for the fantastic day out yesterday for Jo and I at the Willow Angel workshop. We had an absolute ball and your hospitality was amazing. What you have going there is utterly inspiring and long may it continue! We both look forward to coming back again and again to do different things and I will certainly be bringing back others who I know would love it too.
And although it was quite a drive from Leeds, the scenery coming up yesterday morning was stunning and a real bonus. So many thanks again, take care of that knee and have a very happy Christmas and a PROSPEROUS New Year!
I have only had chance to briefly speak to my parents as I away working but my mum seemed over the moon with her day, especially by the mars bar scones, i am intrigued. Thank you ever so much for making my christmas present to them a wonderful experience. Hopefully in the summer we may be doing some cycling in the lakes so i will be sure to come and find you............ it's a pleasure to support places like yours that are doing something different and interesting. Most people I have told about it have been surprised such a day exists and most have been interested so i have directed them to your website

Kindest regards .... R. D
---
You are now on the
Quirky Workshops Main Page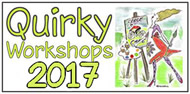 The email containing the new 2017 programme is viewable at above picture link - the 2017 dates will be transferred to each website section over the week
see subsequent page on top menu ie 'More Quirky Workshops' for Bushcraft, heritage, willow and wire garden sculptures etc
(make a cup of tea & keep scrolling . . . both are quite long pages)
Sterling Silver Jewellery Course for Beginners or Intermediates - Melinda Scarborough
No previous experience is necessary for either course .
All equipment and tools will be provided , though perhaps it may be a good idea to bring
a sketchbook for ideas and notes. Also , if appropriate, don't forget a good pair of glasses to enable close detailed work
2 day Silver Jewellery Course

Sun 16 Mon 17 April 2017 full

Wed 16 Thu 17 August

Fri 24 Sat 25 Nov

10am to 4.30pm ish with perhaps an earlier start on day two.

£155 inc a lovely 2 course lunch, fresh coffees and cream tea

Create your own beautiful jewellery with Sterling Silver, Pearls and Semi Precious Stones.

On this popular two day workshop you will use a variety equipment to make as many stunning pieces as you can under

Melinda's guidance. The number of items you make will vary according to your pace.

All photos are student pieces from our

Greystoke workshop

Melinda brings all the tools and equipment essentail for any proper silver jewellery course.

Once people become familiar with the tools the designs start flowing. Your design will be unique; you will learn cutting, forming, doming, soldering, texturing and polishing.You can work at your own pace and make the most your workshop time .


Some Student pieces and feedback from recent courses

Melinda trained for 4 years to acquire a BA Hons in Jewellery at Middlesex University plus a 2 year Diamond Mounting course at London Met. She previously exhibited at The Goldsmiths' fair and won ' Student Designer of the Year' at the British Jewellery Association Awards. She was awarded a 1st Goldsmiths Craft Council design award.

Her beautiful bespoke contemporary designs use

all the traditional jewellery making

techniques and her website is testament

to the quality and calibre of her work.

Melinda Scarborough is not only a very talented gold and silver smith but an excellent teacher who is able to get complete novices (like me) to produce, in only 2 days, several pieces

of jewellery which , if I saw them in a shop, I'd pay good money for! We learnt lots of different techniques and everyone on the course made their own unique pieces applying what

we'd learnt in very different ways, it was one of the things that I was most impressed with, the freedom to make what you wanted. It goes without saying that Annie who hosts the courses provides a delightful space in which to learn and relax and the catering is always splendid.

What a fantastic course! Being a beginner did not matter at all - Melinda was very helpful and patient.

You work at your own pace and everyone comes away with several unique and beautiful items of jewellery.

I made a necklace and earrings which I am very proud of. Annie is a fabulous host as well, lovely lunch was a well earned break :)

I made 3 necklaces on the course - all of which have been admired greatly already. One, a dragonfly, I cannot stop wearing. The course was fabulous -

Melinda the tutor was brilliant (and very patient).

The food and location were second to none. I would definitely go back again (childcare i.e. husband allowing!).

Material Charges

These are payable to the tutor directly on the day - depending on the quantity used and silver prices, this will vary from approx £15 upwards.
---
Silver Clay Workshop - 'Inspired by Nature' . . . with Jo Dix
Jo runs her own Silver jewellery business called Silver Forge in the South Lakes .
There's a lot of freedom in forming jewellery from Silver Clay and there is less emphasis on the traditional jewellery making skills. Being made of silver particles the material is not cheap by any means and can command a higher price than mined silver.
'Inspired by Nature' Silver Clay Jewellery Workshop

Sat 3 June 2016

Sat 19 Aug

Sat 7 Oct

10am to 4pm

£82 inc a lovely 2 course lunch,

fresh coffees and cream tea

Design and make your own bespoke beautiful jewellery in a day. You can even bring along a small personal treasure to copy and make into a stunning personalised piece.

Jo will guide you throught the basics to hlep you get

the best from your silver clay.

All tools and equipment are provided,

just bring your imagination!

All pieces on this page are by beginner students

(except the bottom row).

Materials are extra

What is Silver Clay / Art Clay?

Silver Clay is part of the metal clay family.

It is a fabulous medium for making just about anything,

from the simplest piece to the most intricate patterns.

It's great for all skill levels and fires as

Fine Silver (99.9% pure) which is a higher quality that the jewellery "norm" of Sterling Silver (92.5%).

Jo Dix runs her own jewellery business

called 'Silver Forge' in South Cumbria.

We're delighted to have her running wonderful courses for us

here at Greystoke.

Materials are charged extra for this day - aanything from £20 to £45 or more depending on how much is used.
Return to Table (with prices, dates, availability )
Make a Stained Glass Panel ....with Jackie Hunt - Two day 'Design and Make' Stained Glass Panels
Come and create your own beautiful stained glass panel in two days. You'll work with coloured, clear and textured glass; learn how to handle and cut it safely and to 'lead up' a small (approx 200mm or 8" square) panel. All glass, tools and equipment are provided.

Traditionally, stained glass windows are associated with cathedrals and churches but these days it is also used in homes for decoration. Staining glass is an ancient art of using colour and light to create atmosphere and to depict images and stories.

This course is suitable for all abilities.

There's an additional materials charge payable directly to the tutor of £20

to cover the cost of a panel 8" x 8".

If students choose to make larger panels this will incur an extra charge.

A 2013 Stained Glass workshop

Jackie Hunt is an extremely accomplished tutor of Stained Glass with a wealth of experience behind her.

She has created some beautiful commissions across the country and we are delighted that she still comes all the way from Dorset to Greystoke for us.

Sat 8 Sun 9 July

Wed 4 Thu 5 Oct 2017

9.30-4.30pm each day

£155 inc a lovely 2 course lunch,

fresh coffees and cream tea

Materials extra

Pics from Nov 2014

Health and safety issues:

Lead and lead solder are toxic substances both to handle and tobreathe in the fumes.

Pregnant women are advised not to handle lead or breathe in fumes.

A health and safety briefing will be given and the use of safety equipment (provided) will be required.

PLEASE DO NOT WEAR OPEN-TOED SANDLES

The panel you make could be built into a window

or displayed as a hanging panel in your house.
---
Fused Glass Workshops with Marilyn Hale
Marilyn Hale has been making and teaching Fused Glass for many years from her South Cumbrian studio and we're delighted to host her workshops here at Greystoke.
Once you have been shown what is possible, Marion will let you loose to make what you can under her guidance.

Each student will have enough glass to make around

12-15 different items (depending on the sizes), including Christmas Decorations, jewellery, coasters, candle holders and plaques.

Introduction to Fused Glass

Make your own unique festive decorations and

ornamental pieces in beautiful coloured glass.

Learn about glass types, cutting, fusing, stacking and slumping and

the all important CoE (Coefficient of Expansion) - vital to understand to ensure

the right types of glass are successfully fused together.

You will also learn how to incorporate various inclusions

using frits, stringers, stamps, foils and other fragments.

Sat 15 July 2017

Tues 14 Nov

£75 inc a lovely 2 course lunch,

fresh coffees and cream tea

Our 2017 NEW Course Programme is out early November 2016.

If you wish to be among the first to receive this, please click 'HERE' to join our database. Many of our early courses get booked early as Christmas presents.

Additional charges are £15 per student. This includes the glass, firing fee back at Marilyns studio plus redelivery back to the Cycle Cafe. Certain other small items are charged EXTRA eg jewellery hangers, extra dichroics as well as any additional glass you use at cost.

If you do not wish to collect your glass later from the Cycle Cafe, Marilyn can carefully post it back to your UK home address (not inner London or islands) using a carrier . . .from £15 for the basic glass package, but perhaps more depending on the weight.
---
Make your own large Door Wreath for Christmas
Never buy a Door Wreath again! Make your own Festive Creation with fresh greenery and learn how easy it is to create something very professional looking.

You'll use a new

large oasis ring (16" costing (£10), which can be renewed with fresh oasis and decoration year after year. Spice it up with cones, berries, fruits and ribbons.

There may even be time to make more than one wreath -

perhaps 2 (these make lovely presents for friends at Xmas time) - for the second wreath we will show you how to add new oasis to an old frame and this will mean you will know how to re use your oasis ring for following years. The second rings are charged at £5

As well as supplying greenery ourselves, we will ask each person coming the day before- or early that morning - to gather a large

(trolley bag size) full of mixed greenery to bring

along for the course. we can then share out what we have and create the most stunning large wreaths and also great fun making them

Below is a list of examples that we may have

some supplies of - however not enough for all so we

suggest you bring your own to decorate and add the

final touches to the foliage if you wish

- remember you will be hoping these look fresh for

atleast 2 weeks

Wreath Making 2014 pics

for all pictures of this day please see

http://on.fb.me/1bbg6ZL

Holly with Berries attached - Seedheads

Feathers - Baubles - Bows

Dried Fruit -ie oranges, lemons, limes

dried chilli peppers

fir cones - sprayed white silver or gold

(spray if you have )

Anything else you think may look good

We will show you how to wire up and attach any

decorations that you choose and we hope you will

never consider buying a made up

door wreath again.
---
Bike Maintenance courses with Dan Richards of 'Lake District Cycling'
Don't know how to mend a puncture? Do you wish you could service your own bike?
Dan is a qualified Cytech 3 mechanic and owner of Lake District Cycling, a cycling service provider (in association with Virgin Trains at Penrith Station, providing much needed prebookable Cycle Hire from the station platform) as well as guided rides /tours and a cycling information resource for the local areas.
Also from Penrith, Dan is the new British Cycling Sky Ride Ambassador for the Cumbria and the Lake District and planner/ promoter/leader of accessible group rides for Go Lakes ( LDNP , CT & CCC) and Active Cumbria. He is also the community cycle officer for Alston Moor and author of Top 10 Family Cycle ride books to the Lake District.
Please see . www.lakedistrictcycling.co.uk for further information
Hands On

Strip & Build a Bike Day

Sun 26 March

Frii 14 April (Good Friday)

Sat 29 April

Sun 4 June

10am - 4pm

£78 inc a lovely 2 course lunch,

fresh coffees and cream tea

Class Max 6

Covering Gears, Brakes, Chains,

Cable Replacement, Headsets,

Bottom Brackets,Wheels and Hubs.

IMPORTANT . . to qualify for this course you must be able to at least remove a back wheel happily and change an inner tube.

Your bikes should be thoroughly cleaned before you arrive,

Each students will be provided with a bike work stand and

set of tools and then will be shown how to remove all the components piece by piece.

This is not a bike renovation day, so please don't bring along a 'project' from the garden shed!

Bikes should be in good working order without seized parts but possibly in need of a general service.

Please note: It is not possible to work on bikes with Campagnolo groupsets as the tools required are quite different.

Extra Materials charge

There will be a £5 materials charge which includes one cable and all oils, cleaning and greases used. If you wish to change more than one cable they will cost extra.

Beginners'

Bike Maintenance

for Ladies

Sat 29 April

Sun 4 June

5pm to 7.30pm

£25 inc a cream tea half way through

This short evening course is hands-on and is

designed to make sure you can become self sufficient when out on

your own on a bike ride.

Starting from the very beginning with the basic parts of a bike, you will learn all about bike types and their wheels, then moving onto gears, types of brakes, what to look for regarding any servicing needs (when is it worn out ?) and of course, how to mend the dreaded puncture/ change an inner tube.

This includes removing and replacing the back wheel.

By the end you'll be raring to ride off into the sunset without worrying 'what if I get a puncture?'!

Pictures from previous classes.
---
Return to Table (with prices, dates, availability )
Dry Stone Walling Workshop - Steve Allen - professional Dry Stone Waller (& World Champion)
Steve points out to the group the parts he is most

impressed with- the choice of stone is everything!

Dry Stone Walling with Steve Allen

We are collecting names of students interested in this class and once sufficient numbers

we will email you with a date please do let us know here that you are waiting

Learn this age old skill of creating a solid stone wall without the use of any cement or mortar. Steve (the existing & many times World Champion Dry Stone Waller) will guide you through the setting out & various stages of wall construction. He spends a lot of time in America working with Andy Goldsworthy and will have a lot of knowledge and stories to share.

This course is suitable for all abilites.

FITNESS to PARTICIPATE

Dry Stone Walling is very physically demanding,

at times the ground is unsafe, uneven and rocky.

Stones are heavy , unwieldy and need lifting to around 3 or 4 ft

Only those who are fit to participate should sign up.

There will be a safety briefing and you will be asked to sign a disclaimer before the day.

Those with previous or existing back problems or who are pregnant should not consider this day.

Please bring

safety goggles, suitable gloves

and safety boots
---
'Hands On Cobbling day' with Adam Beeston
Adam is Head of Hard Landscaping in the Horticulture Dept at

local Newton Rigg College.

He also works on private commissions and over the years has helped with the construction of several prize winning 'Chelsea Show Gardens'

We are collecting names of students interested in this class and

once sufficient numbers we will email you with a date

please do let us know here that you are waiting

new dates

Wed 28th or Thur 29th June 2017

9.30-4.30pm

£55 per day inc a lovely 2 course lunch

and all refreshments

FITNESS to PARTICIPATE

Cobbling an be physically demanding, sometime the stones are quite large

and it is possible that at times the ground is unsafe and uneven.

Please bring safety goggles, suitable gloves and soft wooden or rubber mallet and even a kneeler or knee pads.

Join Adam Beeston here for a day of cobbling. Adam is very experienced in

both teaching and cobbling. This is a 'Hands On' day enabling you to learn the skills associated with tradtiional methods of laying cobbles (before the days of cement

and vibrating compactors!) This will be a relatively peaceful day with your square metre of ground in front of you and the materials and expertise to learn this age

old traditional skill .

You will leave with a good knowledge of the use of cobbles in hard landscaping, the different layers required - selecting the correct materials and learning the skill of locking the cobbles together to form a hard and durable surface
A Taster in the World of Dowsing and Water Divining - Eleanor Burke BSOD
We are hoping to fix a date with Eleanor for late July or August 2017 - please let us know if you

have a preference / are waiting.

10am to 4pm £68 inc a lovely lunch

Despite some modern alternatives being available to us,

this ancient form of search and locate is still favoured by many.

Come and learn why so many builders, surveyors and

Water Board employees always reach first for the divining rods when trying to find leaking pipes

or underground drains! Equally archaeologists employ the same methods to find buried

structures, walls, foundations etc.

Hard to fathom and defying all laws of common sense and logic, for most it works.

We simply don't understand how or why it does.

The day begins inside over coffee and biscuits. Eleanor will explain the history of dowsing,

its connections with Christianity and wider applications in different countries. She brings along

several dowsing tools and using simple paper methods you will each learn the processes involved

and discover your own individual positive and negitive signs. You will also look into labrinths.

Water divining is one application of dowsing, and once you have found the dowsing tool that best

suits you we will move into the garden to try to locate pipes, streams and other hidden features.

Crystal therapy, map dowsing, distance healing and earth energies are again different applications of dowsing which are covered, though not in depth, during this day.

The gardens at the Cycle Cafe once used to belong to the Greystoke Castle Estate and are located on or near a roman road. IN the afternoon you will be mostly outside, so please come prepared. Eleanor is a well known member of the British Society of Dowsers and has spent many years using and teaching dowsing to both english students and those abroad.

She will be travelling across from North Yorks. to join us for the day and will donate her fee to a charity that she and the BSoD actively support, involved in helping Mozambique villagers locate pure sources of drinking water.
Return to Table (with prices, dates, availability)
Buttons. Bud Vases and Tea Lights - Textures in Ceramics with Gwen Bainbridge
This day is suitable for all abilities.
Sat 22 April 2017

Sun 2nd July

Fri 10 Nov

9.30am - 4pm

£75 inc a lovely 2 course lunch,

fresh coffees and cream tea

Much of Gwens work is defined by the unique incorporation of textile pattern into her porcelain, making her work so unique and admired.

Gwen will start the day by introducing you to porcelain clay, a beautiful material to work with; you are able to make quite fine pots as a complete beginnner. You will learn how to roll the clay to a useable thickness, then roll lace patterns of your choice into the clay. Once leather hard you will construct a slab pot, which may be a vase, or tea light. These pots may then be further emblelished with clay buttons or lace, all of which Gwen will skillfully show you how to do. A coloured slip may be added at this stage to show up the texture in the lace patterns. Scraps of embelished clay may be made into buttons or jewellery.

If you have a particular piece of lace or textured fabric that you would like to incorporte into the vase then do bring it along,

Gwen will advise if it is suitable for using, maybe you have a piece of lace from your wedding dress/veil you would

like to immortalise in a vase. A lovely course for mother and daughter to come to together.

There will be an additional cost for materials used (including both clay and 2 firings of the clay) of £10, payable to the

tutor on the day. You should be able to make atleast 2 vases and 2 tea lights

in a day and use the remaining clay to make some small delicate decorations

Your pieces can be detailed in white or a slip or lustre added to highight the textures that you have incorporated

.Adding a lustre might incur an extra firing charge

The vases can be posted if you are not local for £10, or they can be collected from Brougham Hall or the Cafe

About me

I see my work as a three-dimensional scrap-book coming from both memories of my childhood and from my response to the experiences brought about through research in books, rummaging through bric a brac, antique fairs, old photographs and magazines. I'm always on the lookout for items that I might use in my work, both for inspiration and for direct practical use. I'm drawn to decorative items. Even as a child I had favourite buttons from my mum's button box that I played with. There were some beautiful green glass dishes that were brought out for parties and the best china laid out when the minister was coming for tea. These are very strong memories for me. But alongside this finery there was the informal, natural world of my surroundings living on a rural farm in Cumbria. The hedgerows where we found birds nests with the treasured little eggs of wild birds, which we watched until they hatched and finally fledged.


I find that nature itself seems too perfect to try to reproduce. I tend to explore the work of craftsmen of the past who themselves might have been first inspired by the natural world. I appreciate the finery of the costumes of bygone eras, and the distinctive qualities of their production. The more limited and yet still lavish colour palette of Elizabethan times, the retro styles of the 1950s and 60s. It's quite an eclectic cocktail of inspiration stored in my mind and continually re-visited.
Appliqué Relief Tiles

in Porcelain

with Gwen Bainbridge

Fri 30 June

Sat 9 September 2017

9.30 -4pm

£75inc a lovely 2 course lunch etc

A day with this very talented ceramics artist to create a tile up to A4 size or a series of three smaller tiles (a tryptych) or indiviudal pieces to suit your need

Using beautiful cutters and stamps (bring your own if you have) and incorporating Gwens own signature use of textures and patterns you will learn how to create your own beautiful designs whether drawn freehand, layered, pressed or imprinted, and built up in relief for a lovely effect.

We have a selection of stamps of varying sizes, you might to incorporate pressed flowers and leaves shapes (work best when dried and flat) . Once you decide you wish to come on this course pick and press your flowers

and bring carefully on the day within the book. Lavender and daisy, ivy leaves, wild strawberry, small leaved geranium all work well.

Colours and definitions may be applied using the same techniques as the Bud Vases course above.

Ideas for triptychs (a picture on three panels) are limitless :

seasons, flowers, leaves, childrens' book characters, animals, birds,

numbers, stories etc etc.

You will start with a porcelain slab around A4 size and you can create one

large relief tile or devide into smaller pieces.

The materials charge for

this to include the usual firing which will be £10 payable to Gwen

Further porcelain will be available at cost pro rata.

Alternatively a triptych comprising 3 panels each roughly 1/3rd

of A4 size would be the same.

Panels larger than 1/3rd A4 height are not advisable

- if reqd please consult Gwen.
---
Return to Table (with prices, dates, availability )
---
Tart up your Table! Inspired ideas for your kitchen in repeat patterns or your own logo
with Georgia Wilkinson and some very clever equipment ~ make large worktop savers, coasters & mugs
Tableware Repeat Pattern Design workshop

Please contact us if you would like us to

organise a special date for you

or go on the waiting list

£75 inc a lovely 2 course lunch,

fresh coffees and cream tea

followed by evening lampshade making course- see below

Spend a fascinating day with textile artist Georgia Wilkinson taking any ideas you have as a basis for a design and turnin it into a repeat pattern. With this single or repeated pattern you can create large glass worktop savers, mugs and coasters. Materials charge is detailed below -

Click on pic for album pics of this last workshop - it shows the vast array of equipment that Georgia brings

NOTE ...just after this class, Georgia runs a

Lampshade making evening - see below

Georgia will explain the prinicples of working with repeat patterns and what will work better when making the items of the day - how to join things up,

the best use of colours and you will cover some of the core principles of repeat pattern design

You will learn various printing techniques and practise these before deciding on your final designs. Georgia will then show you how to use her special

equipment to create a printed image onto the back of a large glass worktop saver using the sublimation technique.

You could then create some melamine coasters or a matching mug. To create multiples you can pay for extra items for eg glass tablemat charged at approx £4-5 each -

if you wish to make several please contact us before hand to ensure we bring enough stock

Material charges

There will be an extra material charge of around £15 which covers costs for a set of coasters and a large glass worktop saver- if you wish to make more these will be charged accordingly and payable to Georgia on the day
---
Short course - Lampshade Making 'mini workshops' with Georgia Wilkinson
Having spent several years working as a repeat pattern designer with the high end textile printers she left London to return to her home county of Yorkshire to start her own pattern design company . Since 2009 'Georgia Wilkinson Designs' has been offering innovative, fresh and unique hand printed textiles operating out of a cricket pavillion on her parents farm and her products are sold in shops throughout the UK as well as online. Her designs are fun, bright and uplifting with her fabric available by the metre or alternatively lovingly transformed into beautiful lampshades and cushions ready for your home
Lampshade making mini workshops

NEW AUGUST SESSIONS

Fri 21st April morning 10am to 12.30pm

Fri 21st April afternoon 1.30 - 4pm

Sunday 13 August 10am - 12.30pm

Sunday 13 August 1.30pm - 4pm

Sunday 13 August 4.45pm -7.15pm

£35 inc welcome drinks plus a cream tea half way through aswell as the

basic lamp making kit. See below

Georgia will arrive with all the tools and equipment needed and during this short course

you will have fun creating and completing a lovely drum lampshade to take home.

Georgia will bring a selection of her wonderful fresh fabrics from her Yorkshire studio

and students can choose these for their lampshades or they can bring their own fabric.

The course price includes everything required to make a smaller shade

if you bring your own fabric. If you choose larger options or select some of Georgia's

fabric, these will be charged extra

Hot drinks and scones will be served mid way through the course
---
Design and Block Print a Lampshade & Cushion Top with Georgia Wilkinson
This day also features in the Textiles page -
Georgia is a trained Surface Pattern Designer who worked in the studio of a textile printers for such companies as Vanessa Arbuthnott and Lewis & Wood
Fri 18 November 2016

1 poss space

Design and Block Print a Lampshade & Cushion Top

£75 inc a lovely 2 course lunch

Thur 9 November 2017

10am to 4pm ish

There will be an additional materials charge of

between £10 and £15 payable

to Georgia on the day

I trained in Surface Pattern Design and later worked in the studio of a textile printing factory in London, working on designs for companies such as Bennison, Vanessa Arbuthnott and Lewis & Wood.

After three years I was beginning to miss the green spaces of rural North Yorkshire, where I had grown up. Returning to my roots I set up jorja wilkinson design in 2009, running the business from a 1930s cricket pavilion studio.

- See more at: http://www.jorjawilkinsondesign.co.uk/about#sthash.ORVV7Uq0.dpuf

I trained in Surface Pattern Design and later worked in the studio of a textile printing factory in London, working on designs for companies such as Bennison, Vanessa Arbuthnott and Lewis & Wood.

After three years I was beginning to miss the green spaces of rural North Yorkshire, where I had grown up. Returning to my roots I set up jorja wilkinson design in 2009, running the business from a 1930s cricket pavilion studio.

- See more at: http://www.jorjawilkinsondesign.co.uk/about#sthash.ORVV7Uq0.dpuf

I trained in Surface Pattern Design and later worked in the studio of a textile printing factory in London, working on designs for companies such as Bennison, Vanessa Arbuthnott and Lewis & Wood.

After three years I was beginning to miss the green spaces of rural North Yorkshire, where I had grown up. Returning to my roots I set up jorja wilkinson design in 2009, running the business from a 1930s cricket pavilion studio.

- See more at: http://www.jorjawilkinsondesign.co.uk/about#sthash.ORVV7Uq0.dpuf

Over first coffees Georgia will tell you a little about her self and explain what is possible over the day,

with hints and tips for your design in mind suitable for a repeat pattern.

Once your design is finalised pn paper you will learn to make block prints using a variety of mixed media tools

and you will practise on paper before turning and printing up the cotton panama fabric

she supplies.

The material for the lampshade will be then cured and hand rolled and carefully finished into a lampshade.

A further pieces of fabric may be printed for a matching cushion cover front

to take home and make a cushion You can choose to make either a small table lamp shade or a larger pendant ceiling shade -

Georgia wil advise on print types according to shade sizes.
---
Furniture and decorating Paint Effects Courses
Three new painting technique & printing workshops using #anniesloane chalk paints, Farrow & Ball paints , a variety of patterned rollers for printing fabrics and wallpaper - led by tutor Sonja Tilleard of 'White and Green' gift home interiors shop, Cockermouth and Penrith.
We are running several 'courses this year with the very able Sonja Tilleard from the lovely 'White and Green' specialist Home decor shop in Penrith and Cockermouth. Sonja has acquired considerable knowledge and training in a whole variety of painting techniques for both furniture, walls and textiles. Favourite brands such as Annie Sloane Chalk Paints , Farrow and Ball, gilded finishes and waxes are used. We are running three different courses with Sonja as detailed below
Upcycling Furniture and Painting techniques
Furniture Painting techniques

Fri 28 April 2017

Fri 16 June

Tue 15 August

Thu 21 Sept

9.30 -4pm each day

£75 inc a lovely 2 course lunch, fresh coffees and cream tea

To begin under Sonja's guidance and working on simple boards you will learn

the various techniques of using chalk paints including distressing and waxing techniques that will be explained, shown and practised

Students can then work on their own small piece of furniture such as a picture frame or a small stool, chair, tiny table etc and renovate it after lunch using the learnt techniques. The brilliant thing about Chalk Paint is you don't need to do much , if any, prep to the surface (no sanding etc) - one can just paint over existing finishes. Chalk paint is a great leveller

Sonja will bring all the materials specialist brushes, paints and waxes

required and a materials charge will be made per person -

poss around £5-10 payable directly to the tutor depending

on the size of each piece
Make your own Lamp Day
Make your own Lamp Day

We can organise this day for a bespoke group -

small groups/ parties etc

please get in touch

9.30 -4pm each day

£75 inc a lovely 2 course lunch,

fresh coffees and cream tea

Combining the patterned paint roller techniques used on a separate couse you will start the day by printing a piece of fabric which will be used to make a drum lampshade.

Using chalk paint, you will also paint & wax a lamp base to co-ordinate with your fabric.

By the and of the class you will take home a fully pat tested lamp unique to you - perfect for your house and amazingly

unique as a special present for someone else

There will be a materials charge of approx £35 for the complete lamp kit or similar,

depending on the sizes chosen
Patterned Roller Painting techniques - for fabric and walls
Wallpaper and fabric Patterned

Roller Painting techniques

We can organise this day for a bespoke group -

Hen parties etc please get in touch

£75 inc a lovely 2 course lunch,

fresh coffees and cream tea

9.30-4pm each day

In various parts of the world patterned paint rollers

have been used for the last 100yrs or so

to decorate walls.

They are excellent to use on all plastered or

papered walls especially on wonky walls!

Fabric can be printed, furniture can be patterned

and paper & tissue can be decorated.

A variety of patterns will be available to try and you will learn the techniques to use these patterned paint rollers confidently throughout your home on vertical surfaces as well as on the flat, printing on walls, wood, fabric and paper

There will be an extra materials charge of approx £10 -15 depending on how much you print over the day
Return to Table (with prices, dates, availability )
Cyanotype Printing in Sunshine with Kim Tillyer
Cyanotype printing is an early form of photography, distinctive for its rich indigo colouring and the ethereal quality of the images.
The prints are traditionally exposed using sunlight and were originally adopted by botanists to accurately capture the silhouette of the plants they studied
Cyanotype Printing

with Kim Tillyer

Tuesday 8th August - new date

9.30 -4pm ish

£75 inc a lovely 2 course lunch, fresh coffees and cream tea

During this fascinating day with Kim you will learn about the history and technical process of cyanotype and proceed to coat papers and/or material to create unique prints using found objects (from the garden , stencils or prepared negatives and watch as the sunlight (or special light bulb in th eCyclists barn if it's cloudy) magically develops your works of art.

The Cyanotype process involves painting with a light sensitive emulsion

on to paper or fabric and using our clear Cumbrian sunlight to develop the image.

Different layers are achieved using varied exposure times, hand drawn imagery, native plants acting as a resist and prepared stencils.

The results are different every time so each print is a unique monotype

Kim is an artist and works in the Northern Lights Gallery in Keswickand sells her unique work through the the lovely Northern LIghts gallery in Keswick - her work can be seen here

She also writes a blog called Witchmountain, about living in the Lake District - close to Keswick .

She has recently relocated in Summer 2015 from Yorkshire.

The course is suitable for adults of all abilties and will take place outside,

in the Cycle Cafe Tea Garden under cover as necessary. Materials wil be extra on the day depending on

how much you use - somewhere between £5 and £10 ppayabe to the tutor directly
Return to Table (with prices, dates, availability )
Reduction Linocut printmaking . . .with Janet Dickson
This course is suitable for all abilities

Reduction Linocut printmaking 2016

Thursday 15 June 2017 - full

Tuesday 3rd October new date*

£85 inc a lovely 2 course lunch,

fresh coffees and cream tea

10am -4.30pm

We are delighted that Janet has agreed to

travel all the way from her Northumberland home & print studio

to take her wonderful Linocut courses at Greystoke.

Her style, love of garden, flora and landscape

fit perfectly; and hopefully we'll be holding at least

one of her courses in the garden!

About Janet

Janet Dickson is a printmaker whose work interprets pattern and design in the garden and landscape, creating, lithographs

and monotypes as well as her multilayered linocuts.

Many of Janet's prints begin life in her sketchbooks, from drawings made on location.

"I am inspired by plants and natural forms, as a gardener and a printmaker - from their colour and the detail

of their structure to the visual impact they have on their surroundings.

The garden, therefore, is one of my key subjects, but colour, structure and pattern in landscape draws me too.
Drawing underpins my work - it is where many of my prints begin and the processes I choose allow me

to incorporate drawing in some form or other.


The examples of work you see here embody my practice'.

Material charges & what to bring

Please bring an apron and wear non precious clothes -

printing is messy and the ink stains.

There will be a materials charge of between £7 and £10 payable directly to the tutor on the day dependng on the amount of work produced.

During the class Janet will teach students the importantce of design suitable for linocut, how to create and cut using the different tools provided, learn about various inks , using rollers and blending colours.

Students will be creating a multi layer print using several colours if required.

They will be printing by hand, without the need for a press.

The size of each linocut will be approx A5 size
Return to Table (with prices, dates, availability )
---
Mosaics for the Garden - 'Des Res for Feathered friends' with Keeley Metcalfe
Assembling small pieces of glass, ceramics or stone to create patterns for items and surfaces has been popular throughout civilisation. It is, after all, a perfect form of recycling and a real pleasure and satisfaction can be taken from transforming something that's hard to throw away but in its present form can no longer be used. Creating new ceramic pieces from your old china and transforming it into somethng new and lovely, can be rewarding, absorbing and creative .
During your day with Keeley you will learn the basic techniques of direct mosaics and using different tesserae (the tiles) and go home with something you have made, hopefully a finished piece (depending on the size of the chosen project)
Sat 29 July 2017

Mosaics for the Garden & Home

9.30am - 4pm £75 inc a lovely lunch

During your day with Keeley you will learn about preparing and creating items to mosaic for the

garden using the direct technique . We especially like this DesRes Mosaiced Teapot which would

provide a beauitful home for your resident robin or other small garden bird.

Old teapots are plentiful and this day provides a lovely and useful idea for re-using them.

Keeley will bring with her a wide assortment of mosaic tiles and beadsfor using on your piece,

as well as vibrant glass mosaic tiles to create a lively design. Feel free to bring along broken

china for the picassiette style of mosaics, also being a perfect way to use up those older style

unused wedding presents - although this may not suitable for a round surface such as a tea pot !


Keeley will bring materials needed to ensure your mosaics is suitable for outdoor use

(subject to technique chosen) -as necessary. If you wish to bring something to work on

such as a small table this shouldn't be a problem, though please check first with us.

Bear in mind larger projects may not be completed, you will leave with the knowledge

and material resources to finish your piece at home.

'DesRes for Feathered friends'

Bring an old teapot to mosaic for a perfect new nesting site

perched in your garden .

There will be an extra materials charge from £10 to £20

payable on the day to the tutor depending on what you use