We regret to announce the permanent closure of the Cycle Cafe Tea Garden in Greystoke...
we would like to thank all our customers who've crunched up the gravel driveway on their bikes or walked from the village car park,
over the past 14 years. Good luck and Happy Cycling xxx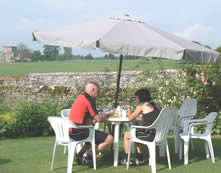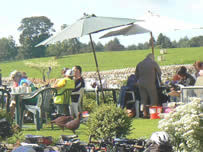 The Cycle Cafe is actually a pretty walled Tea Garden with gazebos and an unheated rustic barn for shelter
When open, we have 2 sets of opening times (depending on how you arrive). Please read carefully - thank you!
We're open to Cyclists travelling by bike everyday


and any C2C /E2E cycle support vehicles you have

are welcome to park in our driveway

Once the Tea garden is open, the self serve Cyclists Barn
will be up and running and will always be available to you in season
10-6pm for hot and cold drinks & cakes, if you arrive by bicycle.

During summer months, if available we can serve you or point you towards the Cyclists barn for self serve from 10-6pm every day.
We would have more staff in on Friday afternoons Saturdays and Sundays 10-6pm for June July and August.

Why? Midweek passing cyclists trade is sporadic and there is insufficient footfall locally to warrant employing staff to serve occasional visitors. Quirky Workshops make both businesses sustainable; however iIf we have a Workshop running and only a few staff there might be a short wait before we can serve you - especially if we're in the middle of serving lunch to a large group. We don't mind you calling to let us know you re coming 017684 80613.

ATTENTION GROUP RIDE ORGANISERS

It helps if large groups ie (20+) give us sensible notice if planning a lunch stop, we're unique in that this is our family home and so are often busy with other jobs - thank you for trying to understand how we work.
017684 83984 or email annie@greystokecyclecafe.co.uk

You should find the barn useful, with towels, blankets, oil, bike pump, (we also have a bike stand you could borrow ) maps, free juice for your bottles etc and you can sit inside or out in either garden under umbrellas or gazebos and enjoy the tranquility of the garden. There are amazing views of Greystoke Castle and parkland, (not available from anywhere else in the village) watch the racehorses riding by and the lambs playing.

We've spare inner tubes and puncture repair kits for sale, an assortment of tyres and also C2C guide book (Richard Peace's Excellent and impartial C2C guide)
Open to All Others - ie Walkers
in June July and August at the following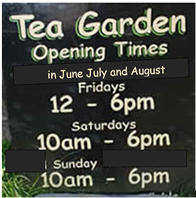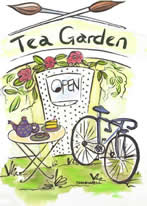 On Friday afternoons, Saturdays & Sundays in June July and August as above
These core opening times are chosen as the C2C cyclists pass through Greystoke on these days - so we will be here with fresh food 'at the ready'.
As a Cycle Cafe we've no car parking facility and are not permitted to have cars parking randomly around the cafe on the unmarked lanes. Our planning consent limits us to those on bicycles or on foot for this reason. These roads are deceptively dangerous - please use the village car park 300 yds away and help us to preserve the character of the village as well as good neighbourly relations - thank you.
There are other Tea rooms in the area, namely Upfront Gallery near Unthank, Skelton or Stainton Farm Shop are both with ample car parking just a few miles away if you feel unable to walk.
The flat road walk from Greystoke village C/Park (300 yds - see map below) is interesting. It takes you around the Castle walls, perhaps alongside strings of racehorses from Greystoke Stables (see below). By all means drop off those not able to walk - sometimes disabled parking may be available.
In warm sunny weather we may be able to open everyday during Whit week and School Summer holidays, other duties allowing.
Thank you for your understanding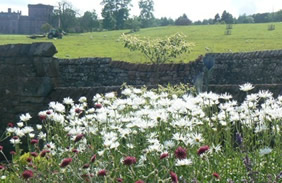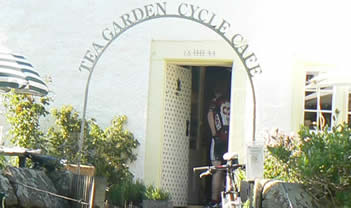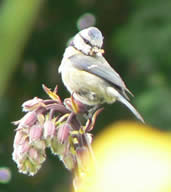 Open since 2005 we are a small family run establishment and over the years we have evolved primarily to meet the needs of C2C /other cyclists in conjunction with our Quirky Workshop guests. 
We have gazebos and a rustic unheated barn for shelter!
Also in Greystoke
St Andrews Church

A beautiful church There has been a Church as Greystoke since 1255. The Church at that time was richly endowed. The nobility took a personal interest in their Parish Church, and the 14th Baron Greystoke, who built the first Greystoke Castle has a grave in the chancel.

Apparently hiding up in the roof of the church are a number of 'green men ' …. (These are not gargoyles but often smiling happy faces and heads surrounded by foliage, branches or fruit, acknowledging the ancient fusion between man and the natural world and representing a pagan fertility figure. These green men were secretly incorporated into many of the newly built Christian Churches when they were constructed on what were originally pagan sites – by the woodcarvers and stonemasons of the time, who perhaps wished to include them for posterity.)
The Boot and Shoe
A pub serving fine food for evening meals 

A Racing Stables owned by Nicky Richards - (son of Gordon Richards) and boasting over 120 horses in training. Greystoke wouldn't be the same without the constant stream of beautiful thoroughbreds filing around the quiet lanes in a variety of circuitous routes up the gallops at the Castle. Many famous racehorses hail from these stables and can be seen on the roads from the early morning through to early afternoon. The front lawn at the Cycle Café is a great place to watch them pass by.
Penrith Market Town 4-5 miles away
The Lake District, Ullswater, Keswick and beyond all on the doorstep ...
some busier and less peaceful than others, though Greystoke has a tranquillity of the quintessential English village. 
Fabulous quiet roads - both hilly and fairly flat (depending on your needs) for quiet, scenic and challenging road rides and some great mountain biking around Ullswater, Skiddaw, Blencathra and towards Caldbeck Fells.